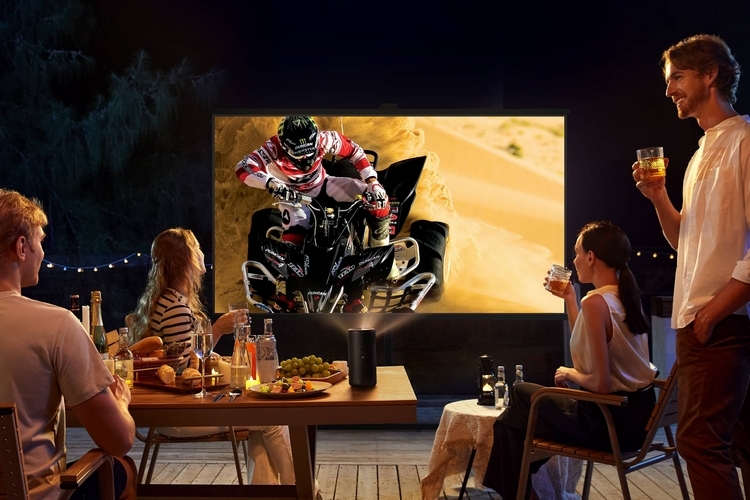 Yes, you can have a perfectly good time watching a movie on-the-go using your phone, tablet, or laptop, but wouldn't you rather enjoy the same thing on a big screen instead? Whether you want to bring big screen viewing to the workshop, the dorm room, or the backyard, a pico projector allows you to do that at a fraction of the cost a proper big screen TV will entail. Not to mention, you're probably going to have a hard time moving that large TV around.
Even better, mini projectors make it possible to enjoy big screen viewing at campsites, beaches, and other places you visit for recreation, giving you an entertainment option that can easily squeeze somewhere in your backpack. Want to check out a game on the big screen while burning the midnight oil at the office? A portable projector could do the trick. How about catching up on a series while you spend an hour relaxing in a warm bath? It's probably going to be a pain to set up in the bathroom, but a mini-projector offers your best shot at getting it done. Suffice to say, a small pico projector opens up a world of possibilities when it comes to big screen entertainment.
These are the best portable projectors in the market today.
XGIMI MoGo Pro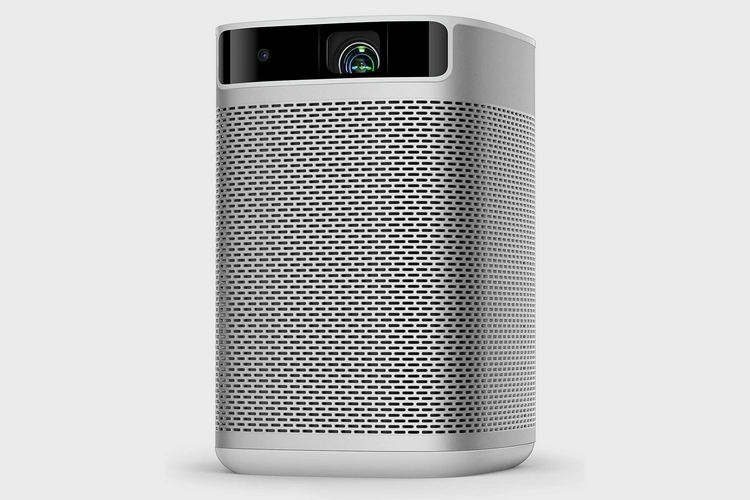 With 1080p resolution and 300 ANSI lumens of brightness, this mini projector renders brighter, sharper, and clearer than most other devices in the category. The details and contrast are downright impressive, allowing for a truly enjoyable viewing experience. It also has autofocus and 40-degree keystone correction, so setting up anywhere is an absolute breeze, while the built-in dual 3W speaker is actually loud enough that you can use it if you don't have a better speaker nearby. It runs Android TV, so you get to enjoy Chromecast and the full complement of Play Store apps, along with Google Assistant for voice commands. Do note, it doesn't run Netflix (it isn't certified), so you'll either have to use a workaround or use the HDMI slot to plug in a different device that can run the app.
$499
Samsung The Freestyle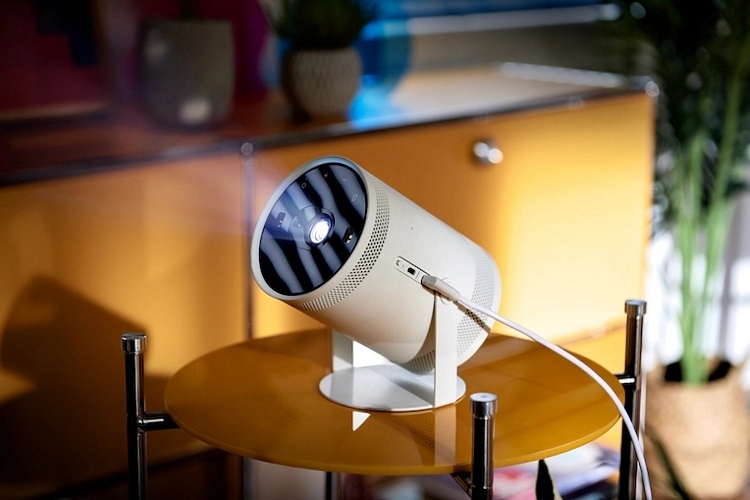 While Samsung's mini-projector doesn't come with an onboard battery, they do offer an optional battery base that makes it viable for taking on the go. Of course, that balloons the price a significant amount, but it still remains on par with the high end of portable options in the category. It's actually meant to function as a three-in-one – a projector, a 360-degree speaker, and a mood lighting tool. In projector mode, it delivers 1080p images with a 100K:1 contrast ratio, 550 lumens of brightness, and HDR10 support, all while throwing up an image up to 100 inches in size. We love the picture quality here, which is sharp, vibrant, and reasonably bright, although it's still not that great to use during daytime with drapes open (it's not quite as bright as its 550 lumens will suggest). The design is unique, too, with the projector mounted on a built-in stand that lets you move it along a 90-degree line, so you can project straight to the ceiling by simply flipping it to face that direction. A unique feature here is the mood lighting, which is done by applying the translucent lens cap and activating the mode, complete with an option to use the mood lighting with the speaker, in which case it syncs lighting effects to any music you've got playing.
Buy Now – $789.98 (with battery base)
BenQ GS50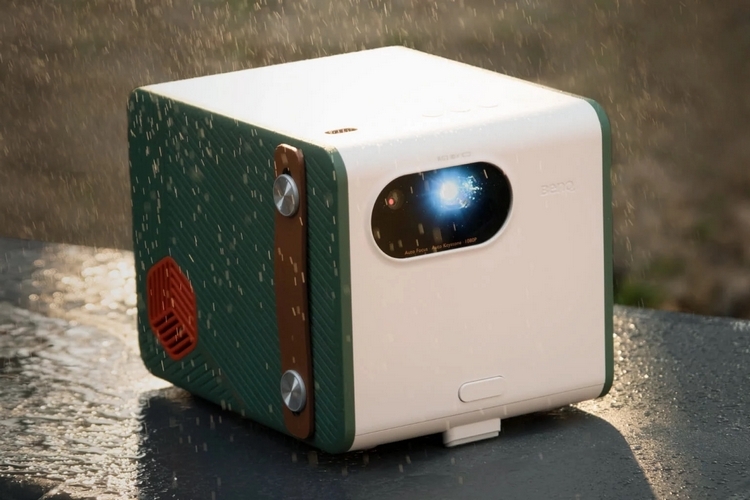 If you want the brightest and most rugged portable projector you can get your hands on, look no further than this box-shaped model from BenQ, which offers a whopping 500 ANSI lumens. Sure, 500 lumens is still a far cry from the brightness level of standard home projectors, but if you plan to use a pico projector for any kind of daytime viewing, this will be your best bet at getting that done. It can project a screen of up to 100 inches in 1080p, with excellent color reproduction that allows it to cover 98 percent of the Rec. 709 color gamut. Truth be told, this has the best colors of all the small projectors we've seen, although the contrast isn't as deep as some of the other models in the list. Features include autofocus, 2D keystone correction, four corner adjustment, an adjustable stand that can tilt it up to 15 degrees, and a robust build that should hold up to the outdoors better than other devices in this list. Just don't use it for gaming, since the lag time is a tad too much (62ms) for any kind of competitive play.
Nebula Capsule 3 Laser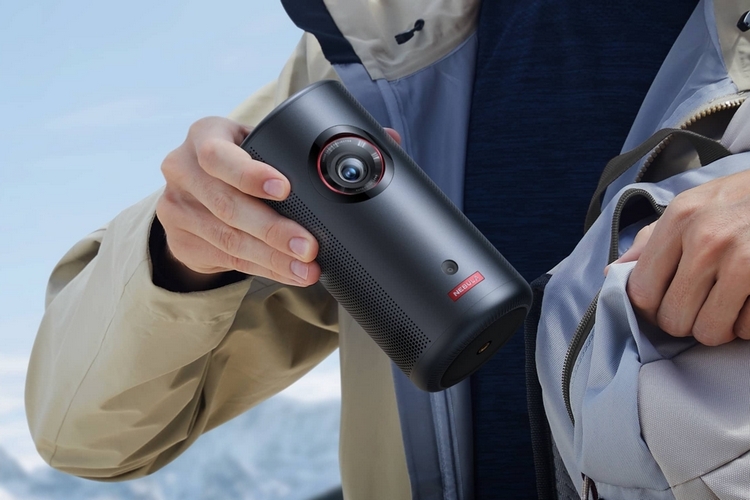 We love everything about Anker's newest pico projector. From the sharp 1080p resolution and the reasonably compact size to the 120-inch maximum screen size and the laser lighting that makes it so much brighter than most offerings in the category (around 370 ANSI lumens), it's a big step up in functionality. It's so good, in fact, that we'd seriously consider this as our primary home projector if it was just a little brighter. As it is, though, you'll still need a reasonably dark room to get a crisp image (basically, close the blinds if you're watching during the day), but the picture quality and everything else about it just works great. The battery runs a little short at just 2.5 hours, which should still be enough to finish even longer movies before needing to recharge.
Epson EpiqVision Mini EF12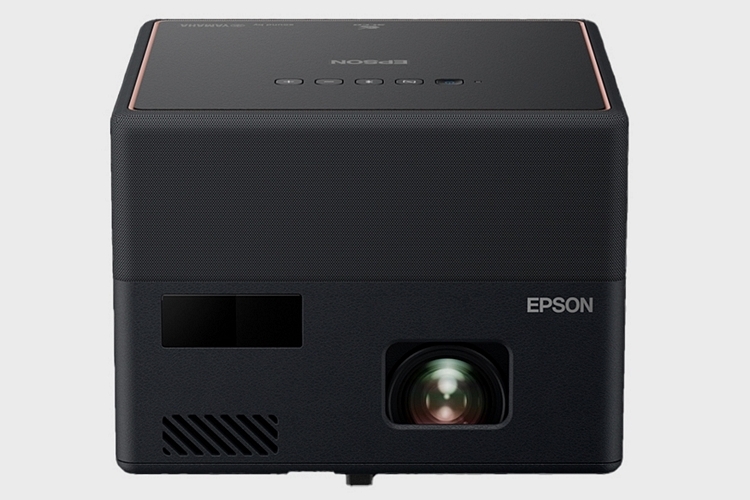 Well be honest – we found this a bit too big for our liking. However, it does fall under the portable category even if the dimensions (6.9 x 6.9 x 5 inches) are, pretty much, pushing it. The bigger size, though, allows it to pack some nice hardware inside that enclosure, including three-chip LCD projection and a laser light source producing a whopping 1,000 lumens. It produces a native 1080p picture that's incredibly clear and sharp, with the ability to display images up to 150 inches. The projector handles the focus, picture orientation, and even color correction all on its own, so you can set this down and sit back for a fun time viewing. Features include built-in Android TV (including Chromecast and Google Assistant), dual Yamaha speakers, and a bundled remote. The big downside here is the lack of battery, so it's only really portable when paired with a power station, which, essentially, doubles the amount of space it will take up.