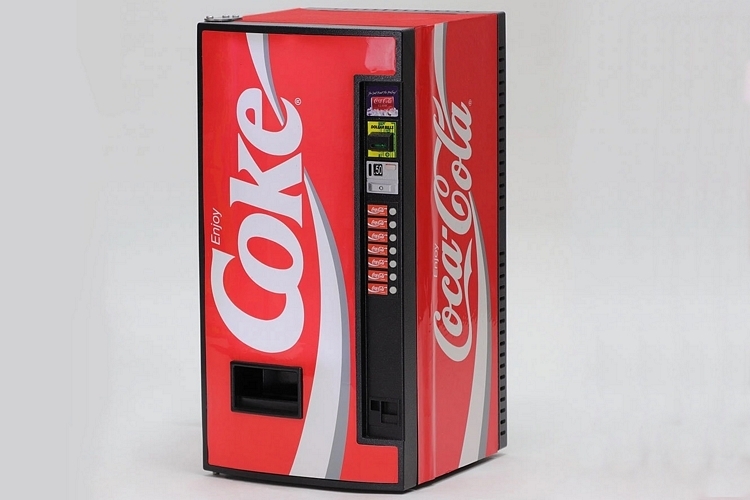 No, you probably don't need one of those tiny desk fridges. It's not that hard to walk the ten or twenty steps needed to grab a drink from the kitchen fridge, after all. However, what if your desk fridge looks like a vintage Coke vending machine straight out of 1988? That's exactly what you get with the New Wave Toys Coca Cola Classic Replica Vending Machine Mini Fridge.
That's right, they made a mini-fridge that looks like a miniature vending machine, so you can get your chilled drinks from a tiny replica of a vintage machine that dispenses chilled drinks. It's perfectly scaled with 12-inch action figures, too, so you can have one of your favorite characters posing to grab a drink at the vending machine on your desk while you work, play games, or waste copious amounts of time on the internet.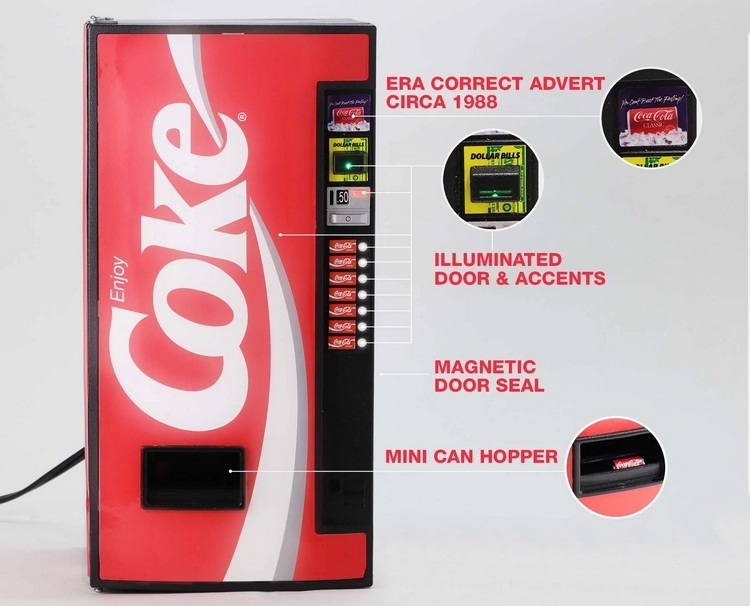 The New Wave Toys Coca Cola Classic Replica Vending Machine Mini Fridge is a detailed 1/6th-scale recreation of Classic Coke vending machines circa 1988, with the exact same proportions (scaled down, of course), so it kind of looks like the real thing. Everything has been recreated in exacting detail, from the colors and logos to the buttons and labels to the bill acceptor and the can hopper at the bottom. Seriously, they didn't skimp on the detailing on any part of this thing, making a great toy to include in any tabletop scene requiring a vending machine from the era.
Not only does it look like a real vending machine, it's even designed to work like one. It comes with miniature coins and dollar bills that can be inserted at the bill section, after which, you can press any of the dispenser buttons to prompt the machine to drop a miniature Coke can into the hopper. Reloading the mini cans and retrieving your miniature currency are easy, too, with no need to unscrew any parts, so you can keep the soda spending spree going.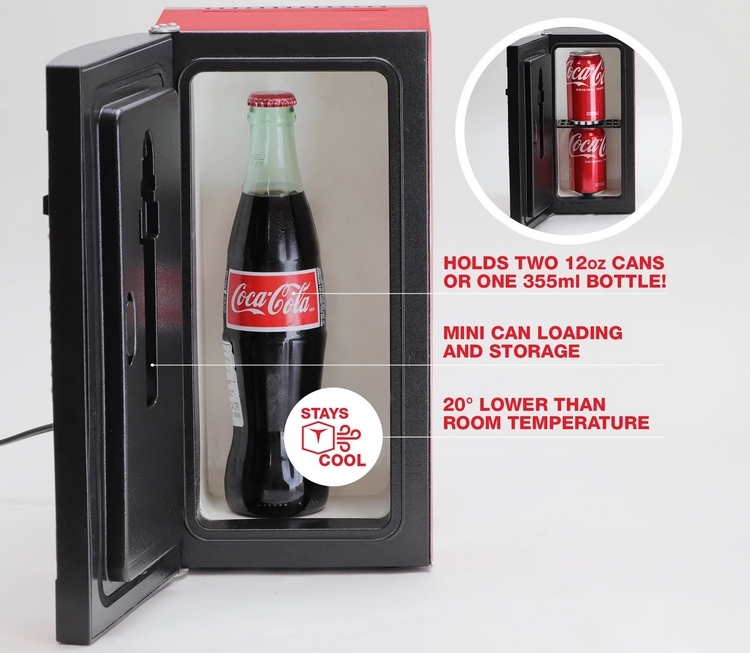 The New Wave Toys Coca Cola Classic Replica Vending Machine Mini Fridge is, of course, an actual fridge, with a thermoelectric semiconductor cooling module and dual fans that can chill your drink at reasonably cool temperatures (20 degrees lower than room temperature, according to the product page). Sadly, the 1/6th-scale means this overall size of this thing is very limited at just 12.3 inches tall. As such, the fridge section only has enough room to accommodate either two 12oz cans or one 355ml bottle, making for a rather paltry stash of cold drinks. Both the fridge and the mini-vending machine are powered, by the way, with a three-way switch allowing you to power everything off, power both, or power just the vending machine, in case you don't plan to use the fridge.
Aside from this Classic Coke vending machine replica, the outfit is also offering a miniature vending machine of the new Coke formula from the late 80s, with similar features and detailing. Both machines come with six mini can props, miniature coins and bills, and a removable divider shelf (put it in if you want to chill two cans instead of one bottle).
The New Wave Toys Coca Cola Classic Replica Vending Machine Mini Fridge is slated to come out in the fourth quarter. It's now on preorder, priced at $139.99.