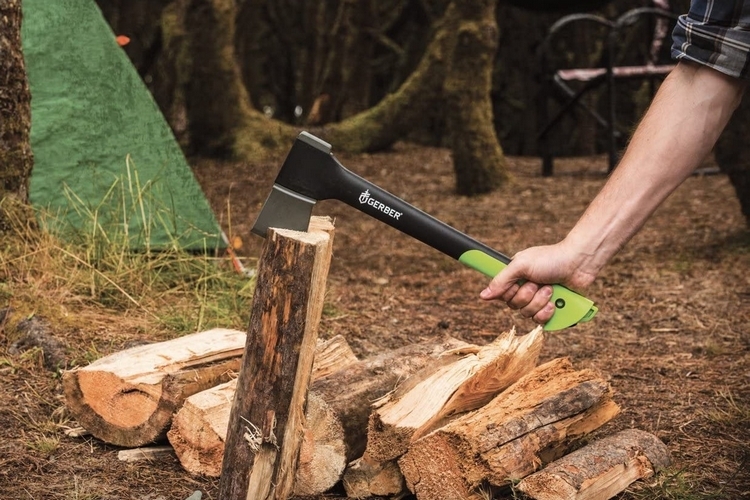 A good survival knife can handle plenty of cutting tasks around camp. As versatile as it is, you're going to have a hard time using it to clear branches, split wood, and, when necessary, cut down a small tree the way a proper axe would. Plus, it makes for one of the more intimidating self-defense weapons you can use when it turns out Bigfoot is real and he lives right by the place you decided to set up camp.
These are our favorite axes and hatchets for camping.
Estwing Sportsmans Axe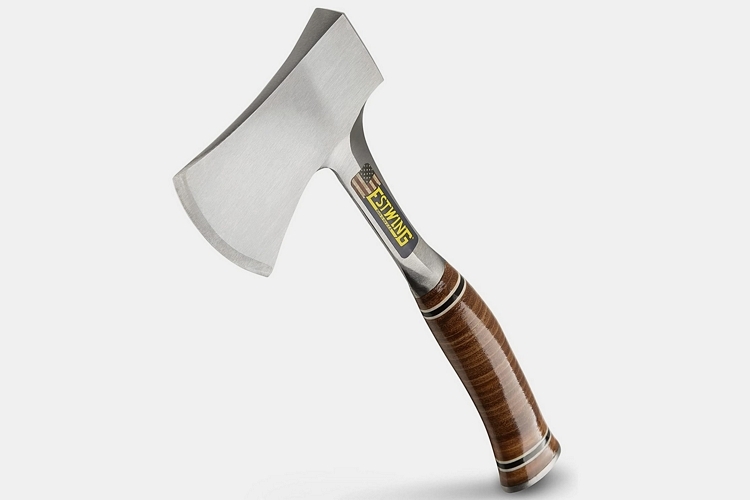 We love this axe's one-piece drop-forged construction, which ensures longer-lasting function, as there are no parts that will move or come off. At 14 inches long, it's just the right size for strapping down to your pack, all while performing admirably for lighter-duty camp tasks. Can you use it to split a full log? Sure, but it won't be the best at it. However, for general wood splitting, whittling, and delimbing tasks, this thing gets it done with aplomb, especially with its balanced feel. We also love the stacked leather handle, which gives it a really unique, although some may be put off by the finish, which doesn't feel all that premium (then again, you don't expect premium at this price).
CRKT Woods Chogan Tomahawk Axe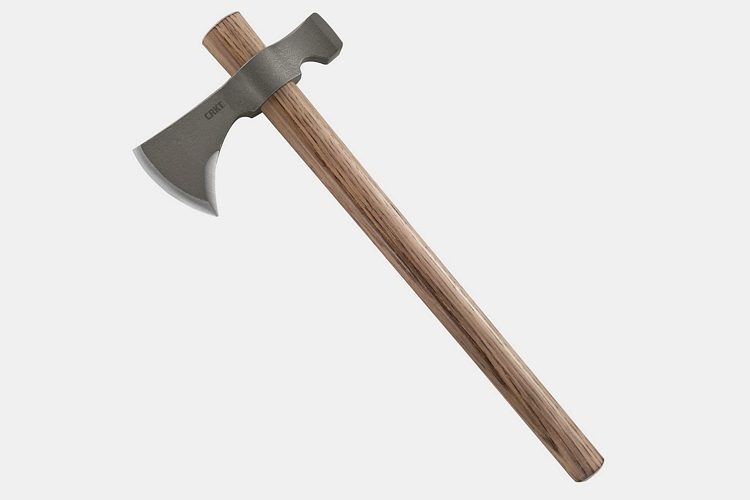 At 19 inches long, this is one of the bigger axes in this list. Despite that, it remains plenty manageable, tipping the scales at roughly two pounds, so it's still very viable for camping. This thing makes mincemeat of splitting firewood, with enough bite and force to fell small trees when needed. While most tomahawks are designed to double as tactical blades, don't count on this for that, as this thing is geared purely for chopping wood with its deep cuts and strong bites. The 1055 carbon steel head is a little too easy to get out of place, so you'll want to watch your swings a bit, although this also allows you to easily remove it for sharpening, so it's not all bad. It has a hammer head on the opposite side, by the way, which really comes in handy when getting things done around the campsite.
Gerber 17.5-Inch Freescape Hatchet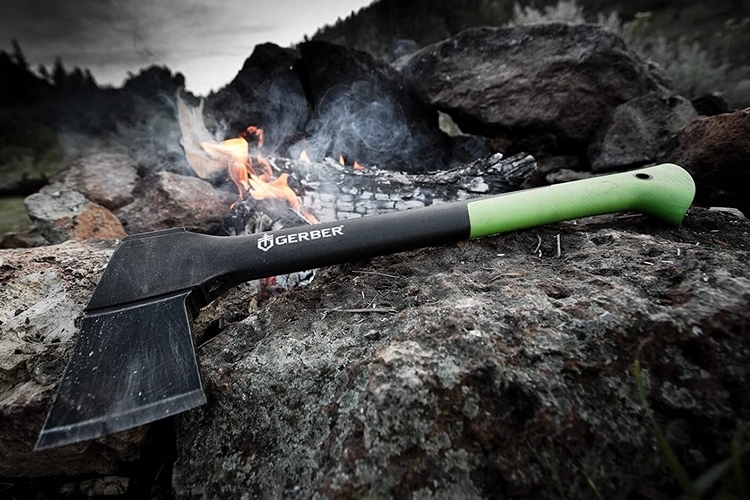 We love the size of this hatchet – small enough to be portable, nimble, and precise when needed, while being big enough to offer heavy chopping power when called on. Seriously, the size and weight are just right for one-handed use. Between the forged steel head and the 17.5-inch handle, you get enough leverage and power to split six-inch firewood rounds without any trouble, while the shock-absorbing composite grip allows for reduced strain on your hands with every swing. We also appreciate the redesigned head, which helps it really bite in when splitting wood while protecting the shaft from too much wear. If you've used Gerber's popular 14-inch hatchet, by the way, this thing can chop around twice as deep as that one, making it a much more useful tool to have by your side at camp.
Morakniv Boron Steel Camping Axe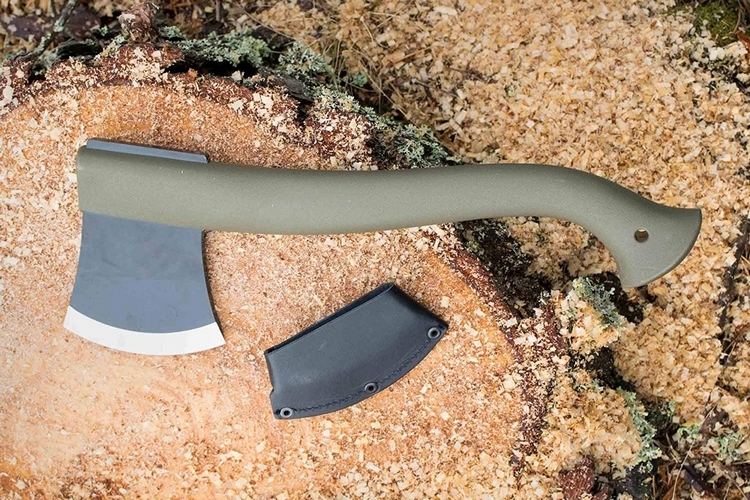 This Swedish-made axe is built around practicality, with its 12.6-inch length, lightweight build, and exceptional epoxy-coated boron steel blade making for a handy and convenient tool to have in the outdoors. The size makes it incredibly easy to stash in your pack, while the blade makes all sorts of wood-splitting and bush crafting tasks a breeze. Seriously, you can do detailed, close-up shaving and carving jobs with this thing as easily as splitting wood for the campfire. Because of the size, it's not the best blade for chopping large rounds and full logs, but it should handle those fine, too (especially, with that nasty strong blade), just expect to put in a little more work.
Fiskars X11 17-Inch Splitting Axe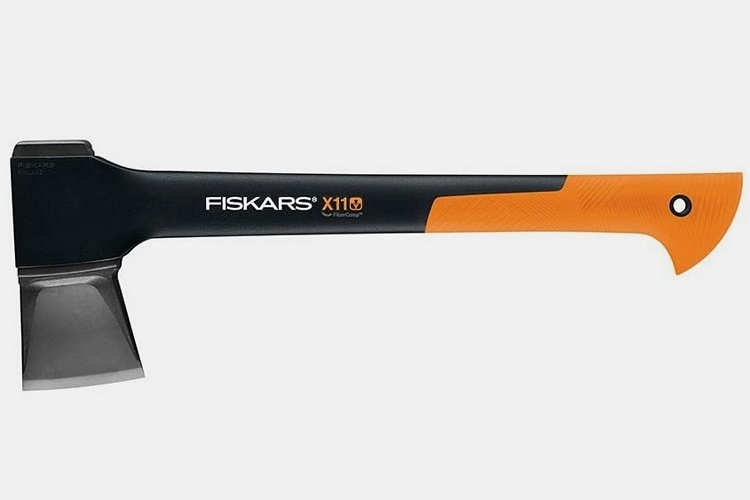 This is one of those axes that feel good the moment you hold it in hand – there's just a balanced feel to it that gives you plenty of confidence when wielding it, whether with one hand or two. And that great feel is warranted, as it performs admirably for chopping, allowing you to buck up larger logs and split firewood into campfire-friendly sizes. It's arguably the best option at this size for splitting wood, with the axe blade's shape not just biting into the wood, but also forcing the grain apart for significantly more efficient cuts with each swing. The axe head is paired with a fiberglass composite handle that's strong, light, and weather-resistant, while a hollow section at the end of the handle helps it absorb shock for less strain on your hands. The entire thing feels pretty sturdy, too, so this is one tool you will likely have in your gear stash for a long time.
Hults Bruk Hultan Trekking Outdoor Hatchet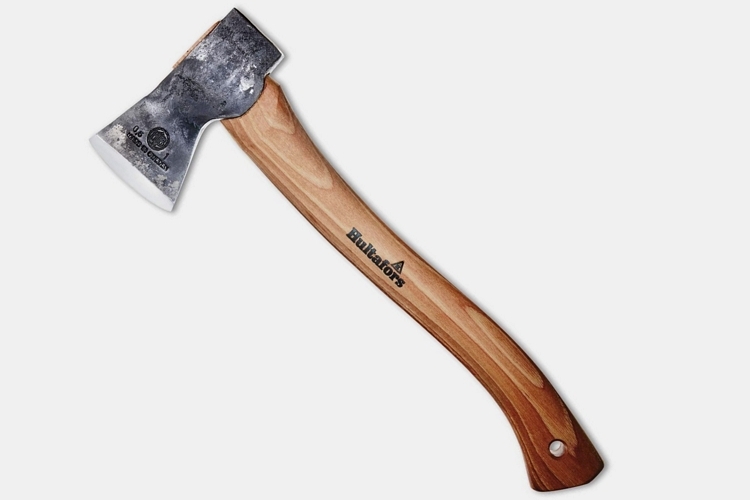 Look at that thing of beauty. It's just the kind of hatchet you can look at all day. According to the product page, this is made from a foundry that has been producing tools since 1697, which probably accounts for that vintage-style aesthetic. Of course, it's not just about good looks and craftsmanship, as the 15-inch American hickory wood handle and 1.1-pound axe head combine to give you the most beautiful way to split firewood, clear light brush, and even chop logs. Seriously, this can handle all but the most demanding campsite tasks, so you're getting equal value for the premium you're paying.
5.11 Tactical CFA Peacemaker Tomahawk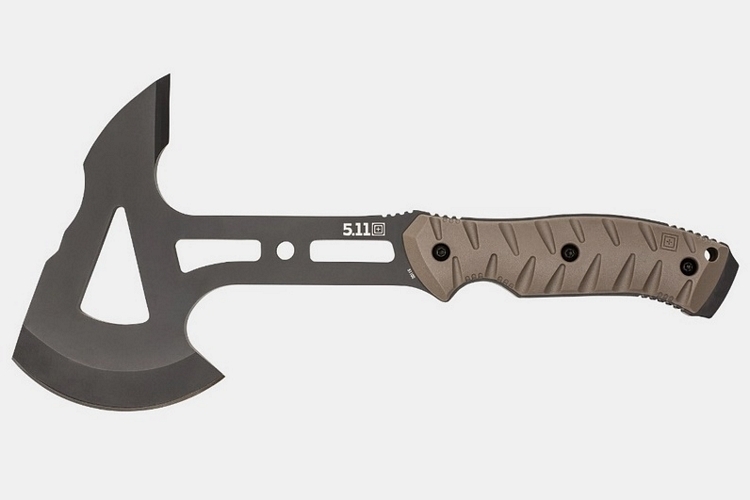 Truth be told, this looks more like a bladed weapon than a bush crafting essential, which, we guess, is the whole idea behind the design. Despite the seeming obsession with tactical styling, this is a very capable campsite tool, with a broad 4-inch cutting edge that can chop its way through branches and bushes, as well as a spike on the opposite end that's very handy for splitting fire wood and digging holes on various hard materials. It's 14 inches long, making it extremely portable, all while sporting a four-position MOLLE clip that allows you to easily integrate it into your belt or bag.