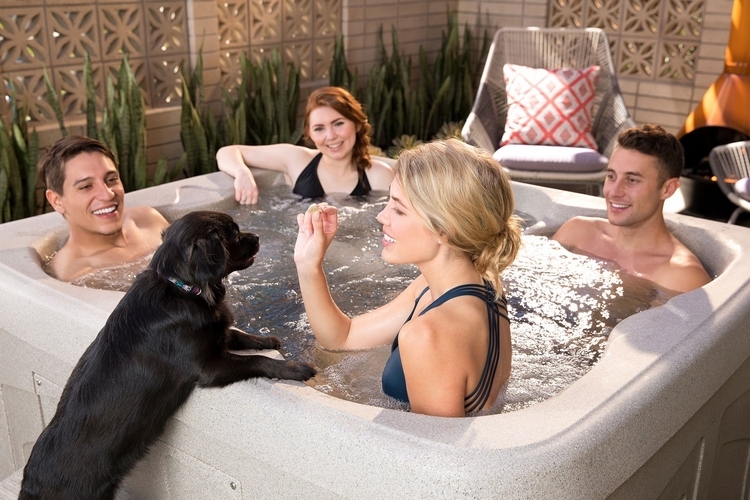 When the world went into lockdown three years ago, people sought out ways to bring more recreational amenities inside their homes. For households with outdoor space, hot tubs became one of the most popular ways to do just that. Hot tubs make perfect sense, after all, as they offer a relaxing place that can help you calm down, clear your mind, and relieve the day's stresses, all while making for a fun place to hang out and entertain friends. Not to mention, it tends to have a positive effect on your property value.
While the periods of lockdowns have long gone, hot tubs (and hot tub boats) have remained popular for good reason. It's just an excellent addition to any outdoor space that you can enjoy all year round. Of course, hot tubs are not just about a warm soak and a relaxing time. They are quite expensive to purchase and install, after all, while requiring a decent amount of maintenance if you want to keep it in tip-top condition, so best keep that in mind if you're planning to get one. For many people, any hassle it entails will definitely be worth the trouble, especially with the amount of relaxation it can bring your way.
These are the best hot tubs for your home's deck, patio, or backyard.
Wave Swift Octagonal Hot Tub Spa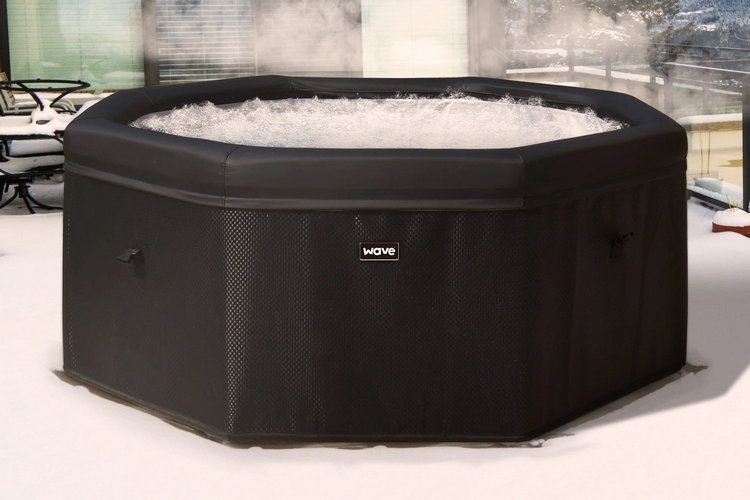 Instead of using those tough thermoplastic exteriors, this hot tub has a shell cut in a woven rattan cover on top of the insulating foam. While that probably leaves it less sturdy that those full-plastic builds, it does allow them to price it well below what a six-person hot tub will usually cost. This makes it a great value for those looking to stretch their budget as far as it can go. It's still rigid, of course, so it's far sturdier than inflatable and collapsible hot tubs, as it sits squarely between inflatables and standard thermoplastic models. Not only can it accommodate six people, it boasts 110 hydro-therapeutic air jets to provide that soothing hydro-massage that makes spas so relaxing, while a 1380W combo filter and heater keeps the whole thing toasty and sanitary. The inside is pretty bare, though, with no seats, so you'll have to adjust to get comfortable all on your own. At this price, we'll take it.
Lifesmart LS100 4-Person Plug-and-Play Square Hot Tub Spa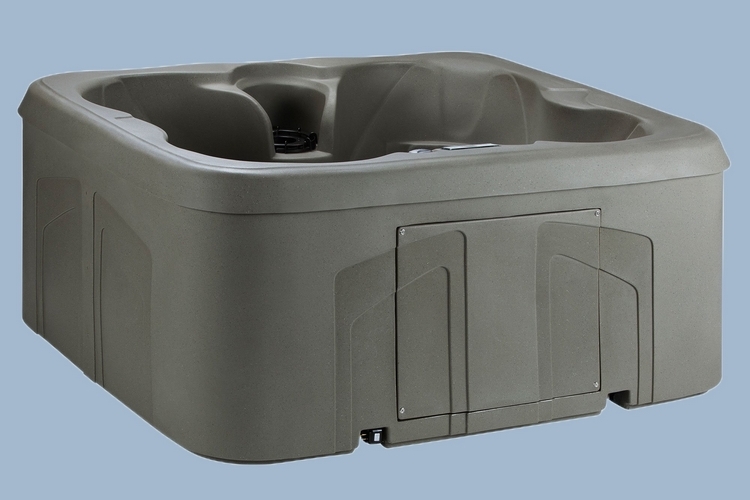 This square-shaped hot tub is designed for plug-and-play use, allowing you to set it up in a jiffy. Of course, you'll need anywhere from 16 hours to a whole day to get it properly heated, depending on ambient temperatures, but once it does, you get a really relaxing spa that can maintain temperatures very well using thermal-friction heating, which is very cost-efficient. While it is listed as a four-person spa, it is best for accommodating two large adults very comfortably, with the option to cram in one or two more if everyone's willing to squeeze in a bit. Features include 13 graphite jets, a multi-color LED system for some mood lighting, and a 205-gallon water capacity. It comes with its own pump, filtration system, and cover.
AquaRest Select 300 2-Person Plug-N-Play Spa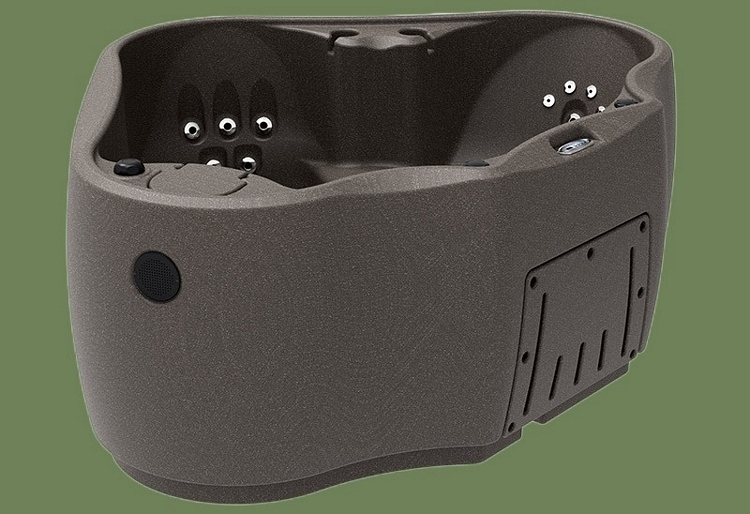 If you have limited space for a hot tub, maybe a two-person model designed for decks and patios will be more suitable for your needs. It has a triangle shape designed to hold two people diagonally, ensuring there's ample room for comfortable lounging and equal access to the 20 hydro-therapy jets. The two bucket lounger seats are ergonomically shaped to handle the body's contours, while the 160-gallon capacity ensures there's enough water to soak relaxingly in at all times. Despite being small, by the way, it's still pretty heavy at 232 pounds, so you still won't be carrying this around all by your lonesome. Features include a 1.5 horsepower one-speed pump, an Easy Kleen filtration system, nine multicolor LED settings for changing the mood, an easy access drain valve, and a thermal locking cover.
AquaRest DayDream 3000L 6-Person Hot Tub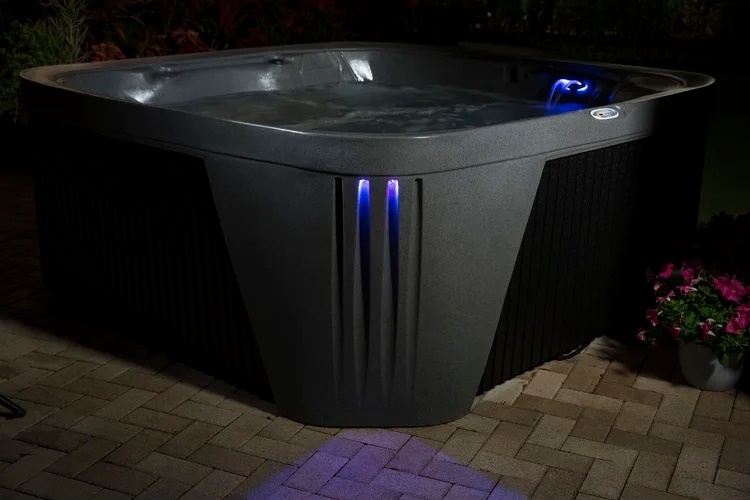 Equipped with a total of 30 hydro-therapeutic jets, this hot tub can deliver a warm hydro massage that can be very relaxing for your body after a long and grinding day. Whether you spent the day at the gym or doing manual work at the warehouse, it brings the kind of soaking experience that can really help ease those random aches and pains. Its walls are shaped to provide lumbar arch support while you sit in the tub, too, so it will be as equally relaxing for someone who spent the day stuck on an uncomfortable office chair at the office. The tub should fit six people well enough, although we'd probably stick with four if you like having plenty of wiggle room. Features include a 318-gallon water capacity, a two-speed pump, Easy Kleen filtration system, multi-color LED fan waterfall, and multi-color exterior LEDs.
Canadian Spa Okanagan 4-Person Hot Tub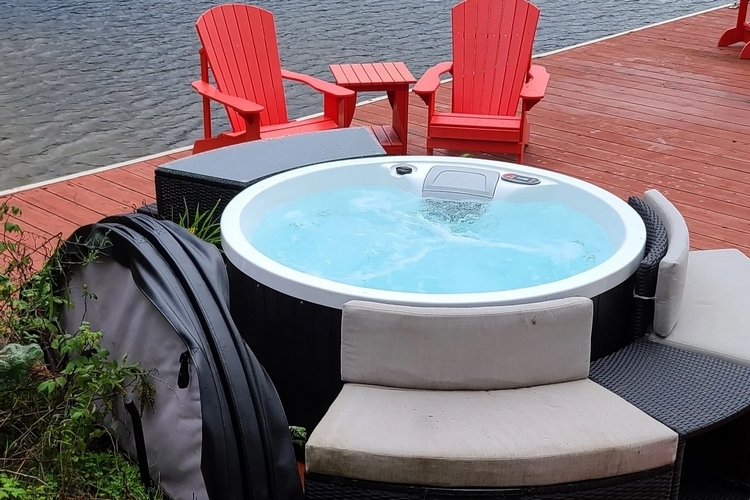 While this is a bit expensive for a four-person hot tub, you do get what you pay for with a build that feels premium enough to last, so you should have less issues with it down the line. A round hot tub, it measures 63-inches across, so it should be compact enough to fit in most outdoor spaces, all while having a 29-inch depth, so you can submerge your shoulders without having to take on an uncomfortable posture. Of course, the compact size makes it a little tight for the four-person capacity, although it's easy enough to squeeze in nicely, especially with the round shape. Features include 10 rotating hydro-therapeutic jets, a 264-gallon water capacity, multi-colored LED lighting, a two speed pump, and 50 square feet of filtration with a built-in ozone generator. It come with a hardtop cover.
Ohana Spas Restore LS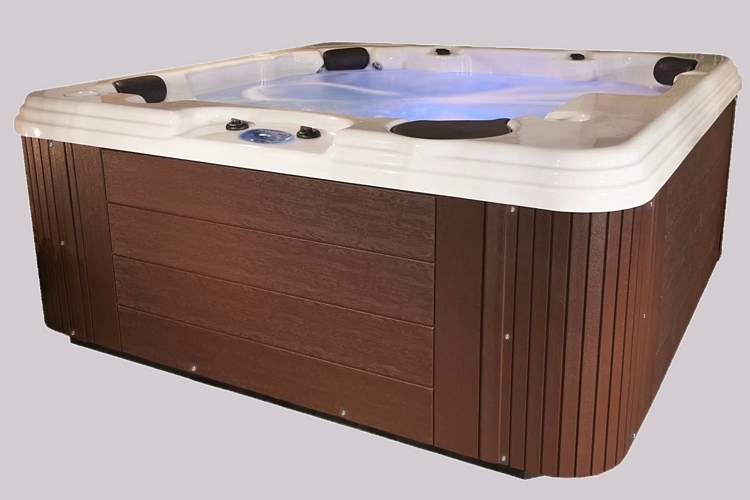 If you're willing to splurge for a high-quality hot tub, venture on this way with this 100-jet (including 50 adjustable jets) six-seater that can deliver a hydro-massage like few others. With a 400-gallon capacity, it is pretty spacious, while a contoured lounger makes it incredible for solo soaking for those days you just want to drown out the aches and stresses in your life. There are only four headrests, by the way, so while it can fit six, four is probably ideal for really spread out lounging, although the 4kW stainless steel heating element does a great job of heating and maintaining your desired water temperature. Features include dual pumps (one two-speed, one single-speed), three programmable energy modes, built-in filtration and ozone water purification, programmable multi-color LEDs, and a locking cover.