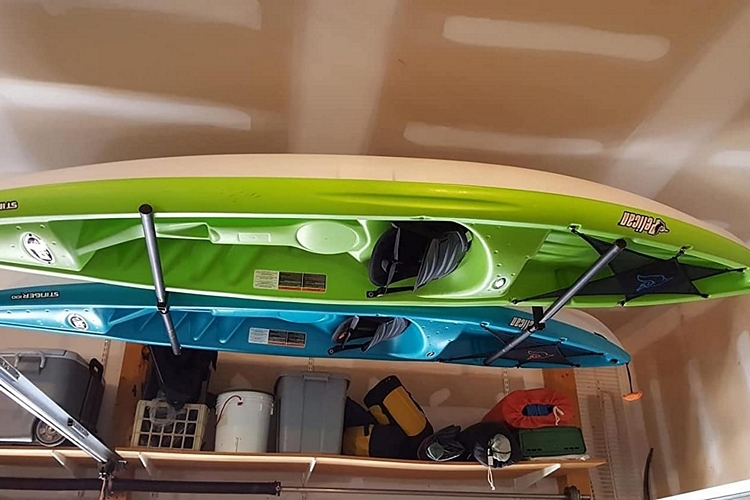 While we've long-embraced the virtues of inflatable kayaks for their ease of transport and storage, it is not the best fit for every kind of paddler. Hard shell kayaks typically offer higher-level performance than inflatables, after all, giving more competitive paddlers good reason to put up with any hassle they entail.
If you want to keep a hard shell kayak or two around the house, then it's important to have a proper facility for storing them. Sure, you can just plop them on the floor right next to your car in the garage, but doing so will cut off a large section of your floor space, likely leaving you with little room to move, unless you have a massive garage space.
The best way to store kayaks is to put them out of the way by using racks that can elevate them off the floor, allowing you to take advantage of little-used vertical garage space. Not only do they do a good job of stashing your recreational canoe, they do it while keeping your garage tidy and unintrusive. Not to mention, they keep your kayaks from being accidentally damaged by cars, foot traffic, and other equipment that typically gets brought into the garage.
These are our favorite kayak storage racks.
Vivohome Lift Hoist Pulley System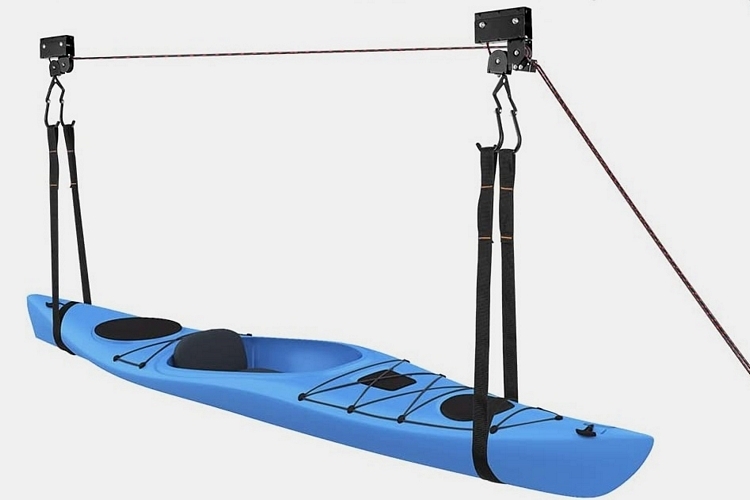 A ceiling-mounted pulley system, it comes with everything you need to hang a kayak overhead, with a design that lets you hoist the hooks up and down, so you can load and unload a kayak without having to climb a ladder. To mount a kayak, use the straps to wrap around the front and back of the boat, then use the strap loops to hang the whole thing on the four ceiling hooks. As you can imagine, the system isn't strictly for storing kayaks, as you can use it to mount, pretty much, anything that can secure onto the hooks, making this a versatile storage option to have in any garage. It's very strong, too, with a 125-pound capacity that allows it to accommodate all but the heaviest fishing kayaks. Construction is highly durable, with nylon ropes, nylon straps, and rubber-coated iron hooks.
StoreYourBoard Hi-Port Two-Kayak Ceiling Storage Rack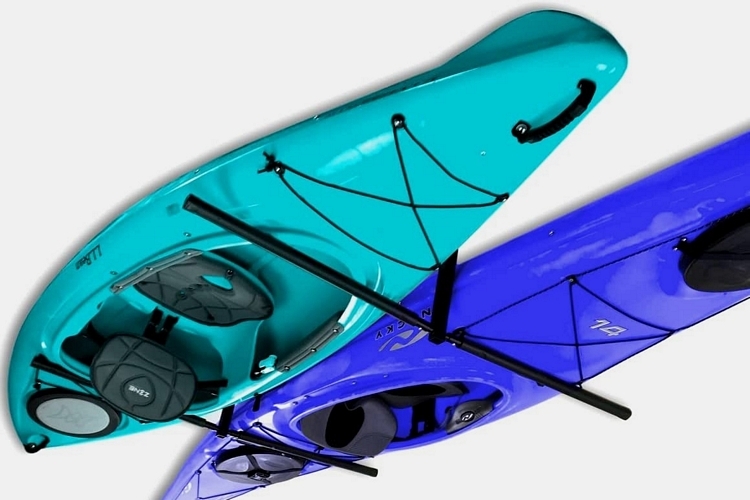 This overhead ceiling storage uses a frame that's 30 inches wide to hold up to two kayaks overhead. The brackets mount directly to the ceiling, with the frame able to adjust anywhere from 10 to 18 inches below the ceiling to accommodate the exact height of your kayak. Do note, this is a fixed rack, so you'll have to use a ladder (or a stool) every time you mount or unload a kayak onto the frame. This is a well-designed rack, with the arms able to install either parallel or perpendicular to the bracket, so you can set up the rack the way you need, regardless of how the brackets need to screw down onto the ceiling. It can accommodate kayaks up to 75 pounds on each side for 150 pounds total capacity.
Suspenz EZ Boat Rack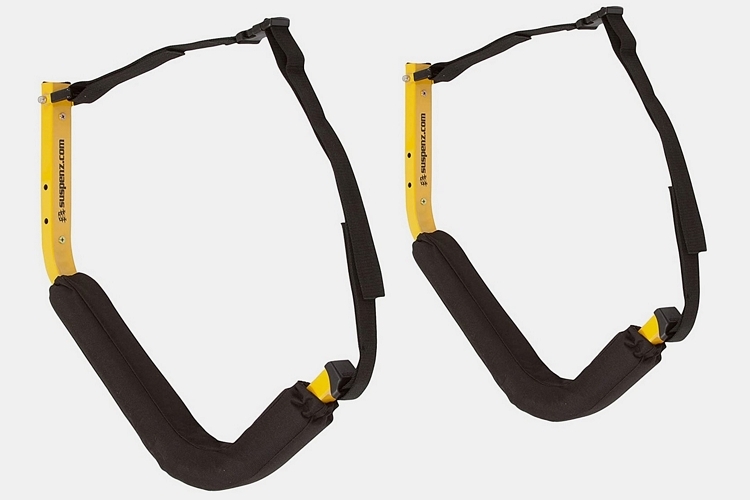 This wall-mounted rack consists of two heavy-duty brackets made from powder-coated steel, which extend 21 inches from the wall to properly distribute the load once your kayak is mounted. It has a 125-pound maximum capacity, which should be enough to accommodate everything but the heaviest fishing kayaks. The steel frame is covered by a foam pad with a 600D nylon cover on top, so your kayak is duly-protected from any nicks or scratchesm while built-in adjustable straps secure the kayak, so it never slips out of the rack. The module arm can also be screwed onto freestanding racks, in case you don't want to drill into the wall.
Sparehand KC-10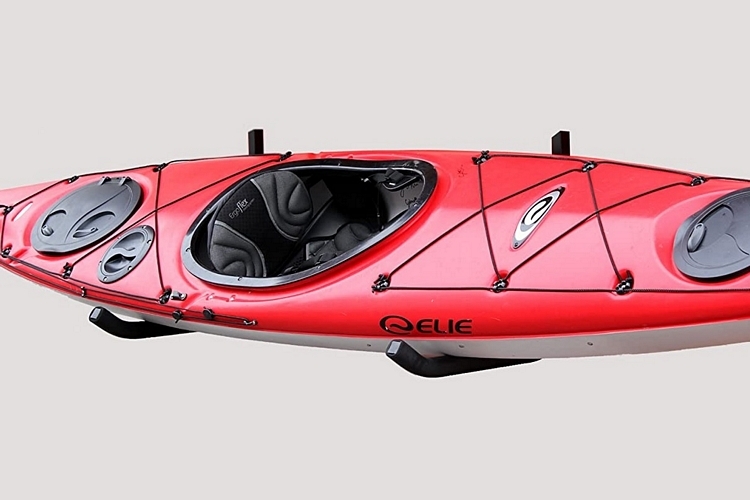 Designed for simple installation, this wall rack can easily be mounted to the wall using four screws (two for each one), immediately giving you a place to suspend your kayak out of the way. It's not the most heavy-duty solution, as it can only handle a maximum weight of 50 pounds, so it's strictly for recreational kayaks, as it won't hold up to the heavier fishing varieties (heavier tandem kayaks are likely out, too). An adjustable strap is clipped to rings on the top and bottom of the rack for securing whatever's mounted on it, which you can replace your own choice of webbing, provided it has clips on either end. Construction is steel with a padded cradle.
StoreYourBoard G-Vert Wall Rack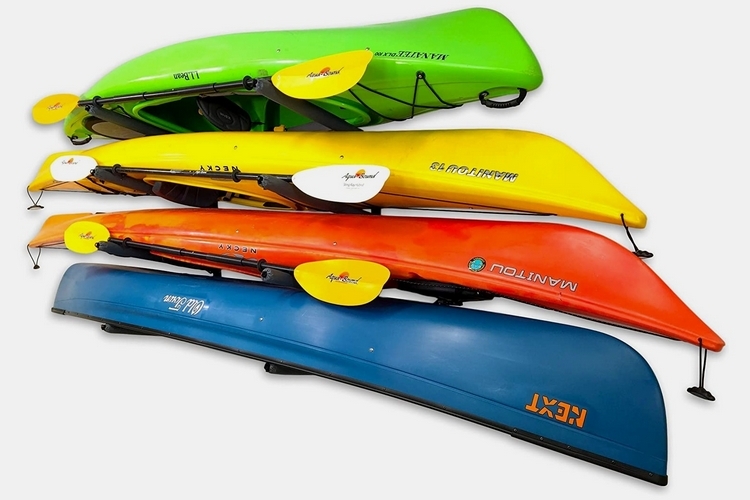 This wall rack consists of two tall brackets where you can install up to four rack arms, each at different heights, allowing you to mount a quartet of kayaks all in one place. The brackets have 45 different mounting points, allowing you to mount every rack at the exact height required, with each level able to support up to 100 pounds apiece. Each level comes with anchor points for attaching cords or cable locks, too, giving you a way to secure each of your kayaks in place. Features include felt padding for protection, quick-connect pins for easily mounting and removing the steel arms, and a bracket height of 46 inches. There's also an outdoor version, in case you prefer to keep your kayaks in more open areas of the house.
Malone FS Rack 6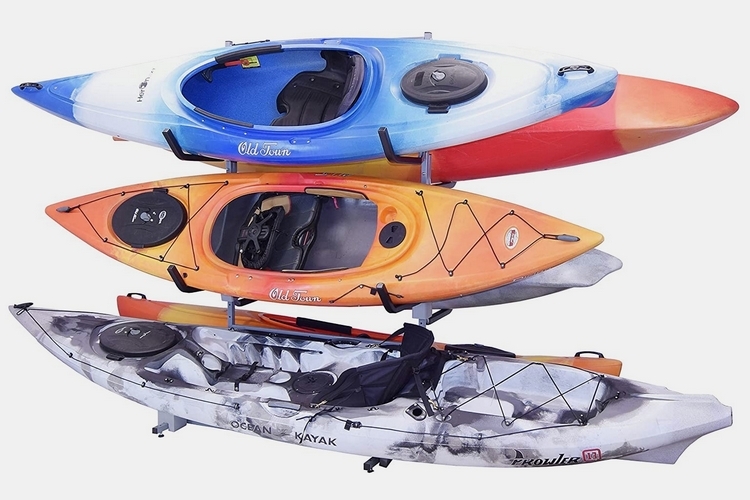 If you need to store multiple kayaks for those family paddling trips, then mounting individual racks just won't cut it. It might be easier to just get a freestanding rack that can gather all your kayaks in one place. That's exactly the case with this model, which has a payload capacity of 500 pounds and enough storage room for a whopping six kayaks. That's right, a full half a dozen, all set down on powder-coated square steel frames with foam padding to keep off any nicks and scratches. Do note, two of the kayaks will be stored near floor level, while the other four can be positioned at any height you want on the rack, so you can just use it as a four-kayak rack if you want your boats stored at an elevated height. And yes, this should also accommodate paddleboards, surfboards, and similarly-sized recreational equipment, making it doubly useful to have around.