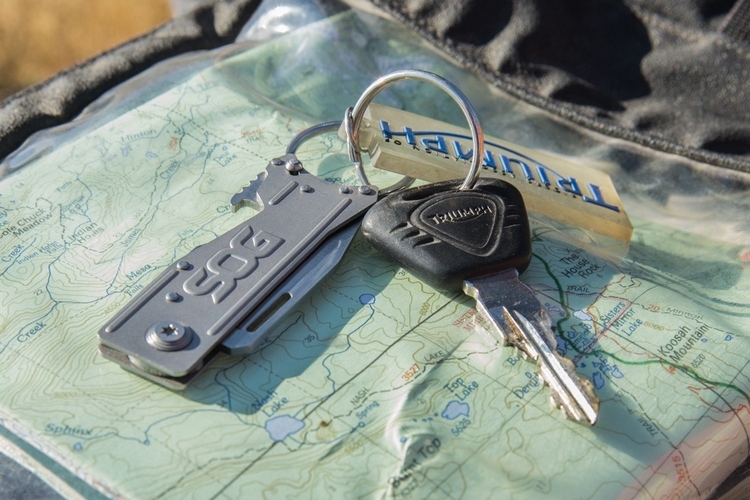 A knife is, arguably, the most indispensable piece in your EDC gear. It just finds so much utility throughout the day. That's why, even if you don't have room in your pocket for a proper folder, it's still a good idea to integrate one into your everyday carry. The best way to do that, of course, is with a keychain knife, as it gets you a functional blade for all your cutting and slicing needs while taking up no more space than a slightly larger key fob.
There's a healthy amount of selection out there when it comes to keychain knives (and keychain tools, in general), with everything from novelty blades and tactical options to miniature versions of bigger folders and everything in between. Which one you ultimately hang on your keychain will depend a lot on your particular needs and tastes, but this guide should help you zero in on a few options that, we think, are a great fit for a good load of people.
These are the best keychain knives to add to your everyday carry.
Opinel No. 02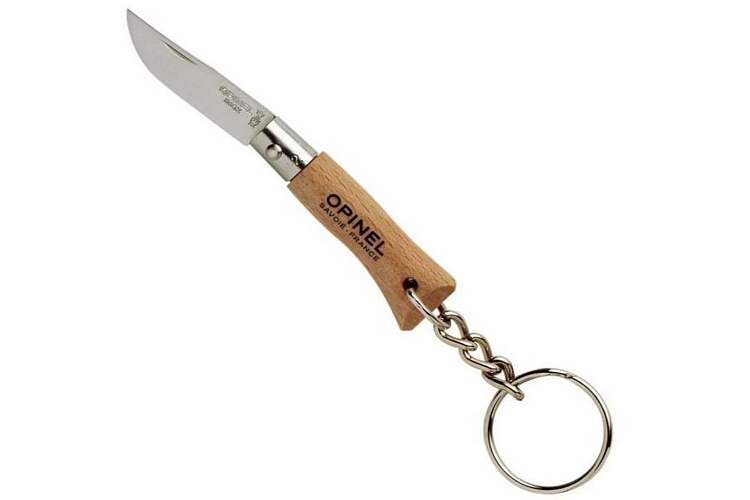 Opinel's smallest knife, this keychain folder comes with a 1.36-inch blade that's big enough to handle plenty of everyday tasks. It takes on the same familiar silhouette as the Opinel's other knives, all while measuring under two inches when folded, so it takes up very little space in your pocket. The downside of being that small is it doesn't incorporate the outfit's Virobloc safety ring, which is what secures the blade in place whether it's open or close, so you will need to be more cautious using this compared to the outfit's bigger models.
Al Mar Stinger Keychain Knife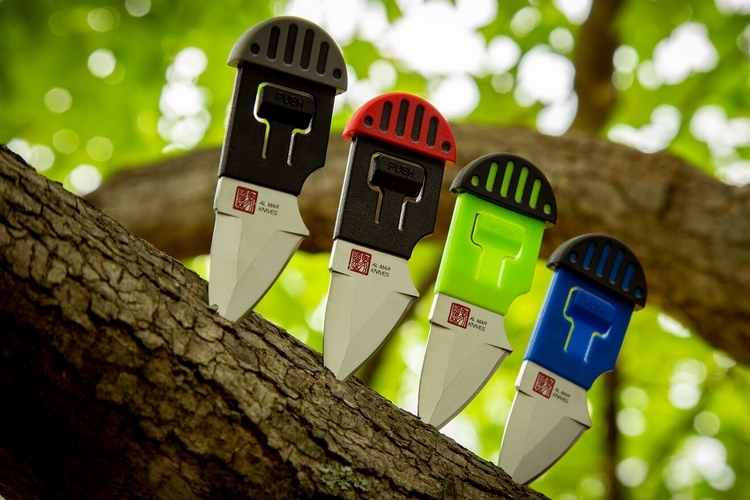 Measuring 3.1 inches when slid into its sheath, this knife is designed to look like a thumb drive while it hangs on your keychain. Pull it out of the sheath, though, and you get a sharp 1.3-inch D2 blade in a wedge-style shape that looks just as fit for self-defense as it is for everyday cutting duties. It is really small, though, so only use for defense in desperate situations. When pulled out, the sheath stays on the keychain, so you can use the knife freely without having to deal with keys hanging off the back. It also comes with a lock mechanism that you'll need to press before the knife can be pulled out, so it won't accidentally come off while sitting in your pocket.
Gerber GDC Zip Blade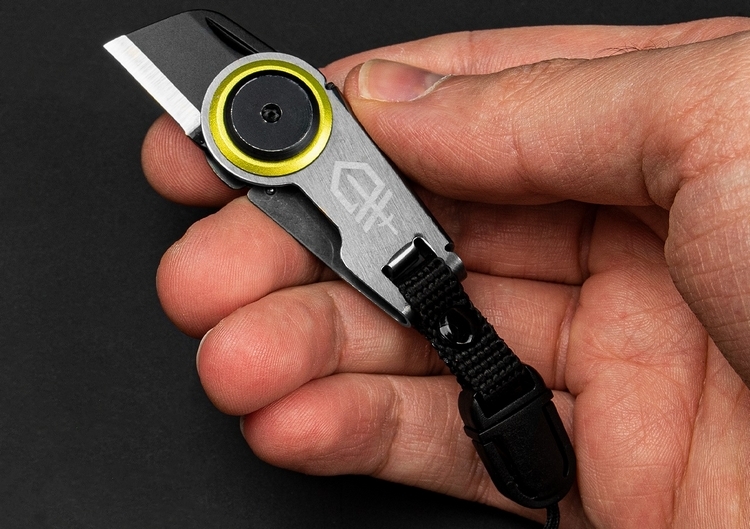 We love the uniquely compact silhouette of this folder, which measures just 1.7 inches long when closed. It has an equally tiny 0.68-inch blade that's just big enough to let you rip packages with ease, although you can also use the edge for similar light-duty cutting tasks. There's a frame lock, so you can safely use this for any cutting job, as well as a quick-release clip that lets you remove the knife from the keychain if you need to use it without a bunch of keys getting in the way.
SOG Keytron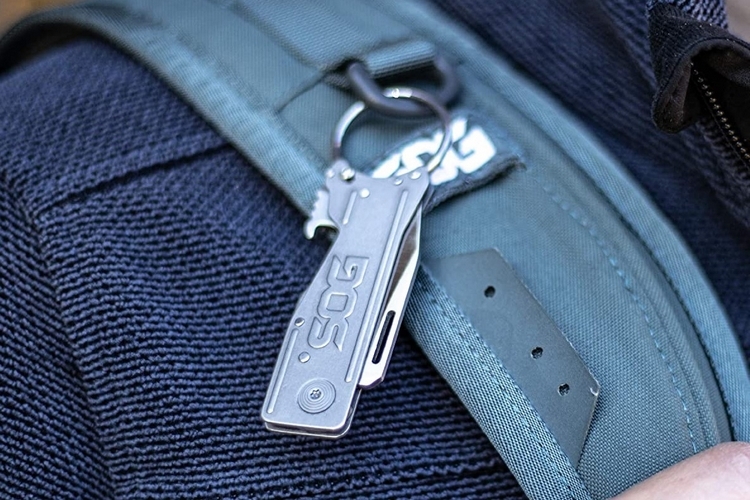 When closed, this knife sits on the bigger side at 3.5 inches, but a good chunk of that length is made up of the built-in key ring at the end where you can slip on all your keys. That extra length, though, means you get a lot of grip for a secure hold when cutting and slicing, with the 1.8-inch clip point blade able to perform a good range of everyday knife duties. It has a lockback mechanism to keep the blade in place when you're using the knife, while the button release makes it easy to deploy in a pinch.
Cold Steel Micro Recon 1 Tanto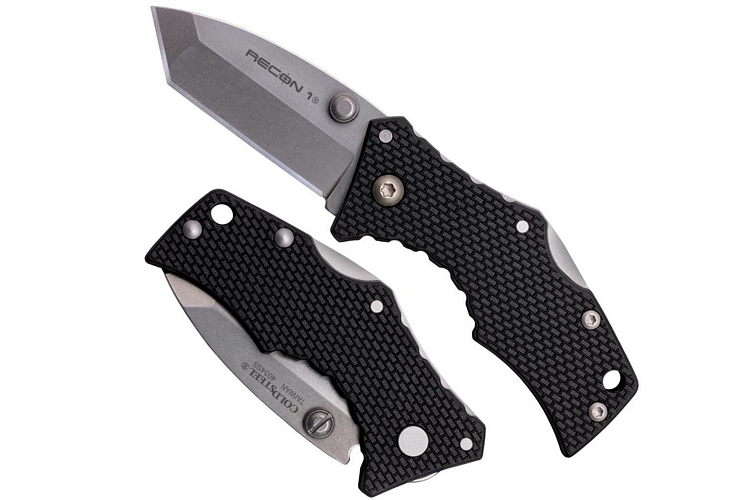 We've heard some people call this the best keychain knife around. While we won't quite go that far, it is an incredibly handy folder to have in your pocket. The shape and texture of the 2.4-inch handle allows for a really good two-finger grip despite the small size, while the 2-inch stonewashed tanto blade really delivers on the job. Not to mention, you don't see many tanto blades offered at this size, which makes this pretty special. The locking mechanism is also very solid, so much so that it feels overkill for a knife this small, but we highly appreciate the extra beef they threw in on that end. The only struggle here is the blade deployment, which feels stiff and nearly impossible to do with one hand, but you can easily overlook that because of how good everything else is.
CRKT Squid Compact
The Squid is popular for good reason – it's compact, it's affordable, and it's got decent build for the price. This keychain folder is an even more compact version of that, coming in with a 2.9-inch closed length and a 1.75-inch blade, so it's small enough to serve as a key fob, all while getting the same assisted flipper and IKBS ball bearing pivot for quick and easy deployment. It comes with a frame lock, so you can use it without worries of any accidental closing, while friction grooves on the blade allow for added grip when you need just a little more leverage. Like the regular Squid, there's nothing flashy about it, but the conventional silhouette and proportions will allow you to get the job done.
The James Brand The Abbey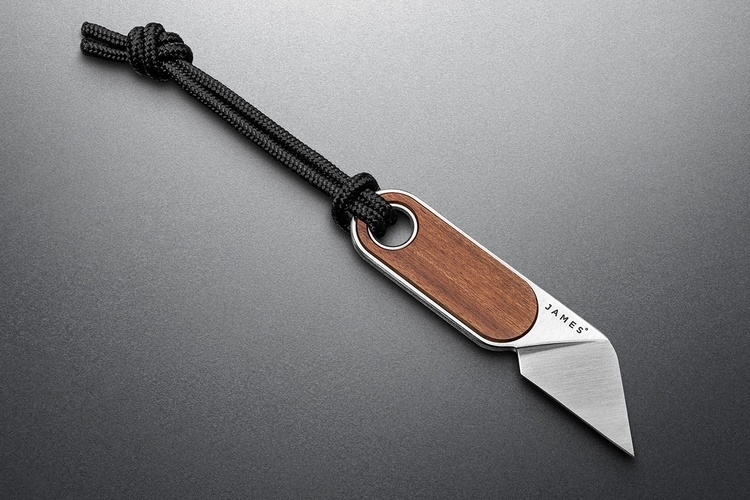 This fixed blade keychain knife measures just 3-inches long, so it can sit in your pocket without taking up too much room. You do need to slip it in the included leather sheath, though, since that tiny blade will slice your leg up if you're not careful. We love the charming looks of this knife, which should handle light-duty tasks with no trouble. Do note, the outfit designed it for a very specific purpose – to open brand new vinyl records, which probably makes it more hipster than you'd like. Despite that, you should be able to use it for most tasks where using a standard utility knife makes for a good option. Features include AR-RPM9 stainless steel blade, rosewood handle, and a big hole at the end for slipping on a key ring.
Spyderco McBee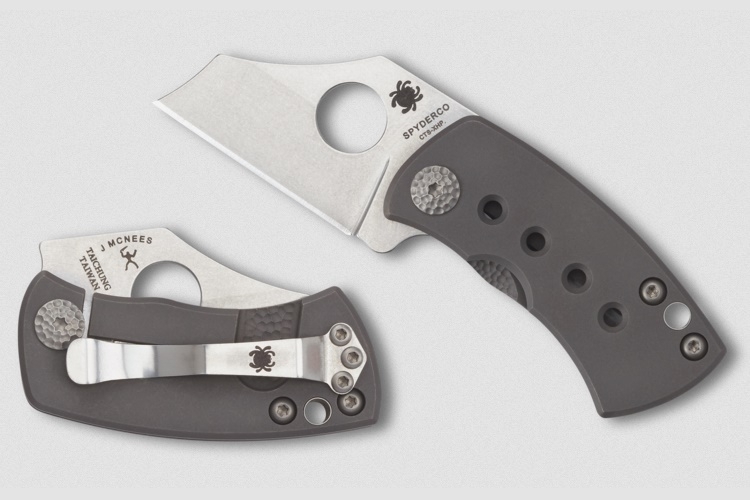 Yes, it's incredibly expensive. If you have money to spare and want a highly-functional keychain knife, though, this is definitely a good option to consider. Spyderco calls it a "proof positive that function is a matter of design, not size." We wholeheartedly agree, as the knife's 2.33-inch closed size and 1.52-inch blade allow for excellent utility for its size. The combination of the scalloped spine and wide grip allows for both scalpel-like precision and impressive cutting power, allowing you to use it for most everyday tasks, even ones that many keychain knives will likely struggle doing. Features include a Wharncliffe blade made from CTS XHP stainless steel, Reeve Integral Locking mechanism, a lined hole for integrating in your keychain, and an hourglass clip if you'd rather secure it to the edge of your pocket.