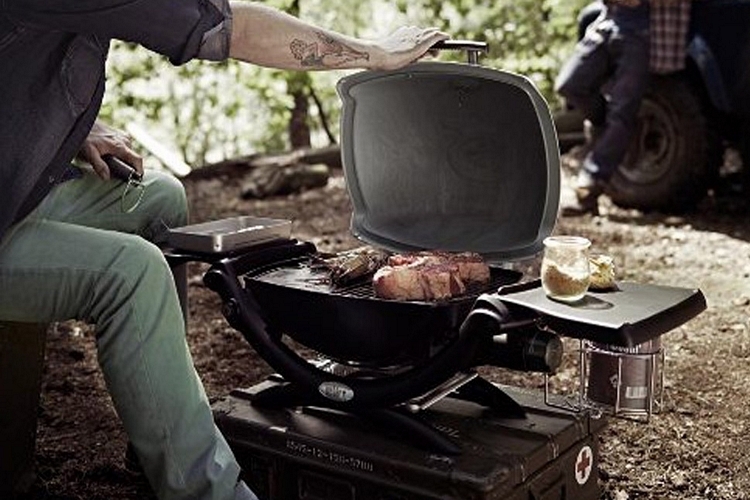 It doesn't matter whether you're partying at home, cooling down on the beach, or roughing it up at the campsite, there's something about the warm weather of summer that beckons us to cook some steaks over open fire. While some beaches and campsites will have a grill onsite for visitors to use, most will not, so it's always a good idea to bring one along to your summer jaunts.
No, we don't mean that large and heavy grill sitting in your backyard. Instead, we're taking about the portable options out there, which allow you to partake in the joys of smoked and charred grub without having to take up too much space in your stash.
Good news is, there are plenty of choices in portable grills, making it easy enough to find one you can take along wherever you choose to enjoy the clear skies of summer. Problem is, the same things that make a grill portable can also make it less-than-ideal cooking contraption, from their small size and light build to their often-collapsible design. That's why, for this list, we focused on portable grills that strike a good balance of size and function, allowing you to have both an easy time bringing it to your excursions and an enjoyable time whipping up a delicious feast.
These are our favorite portable grills.
Weber Go-Anywhere Charcoal Grill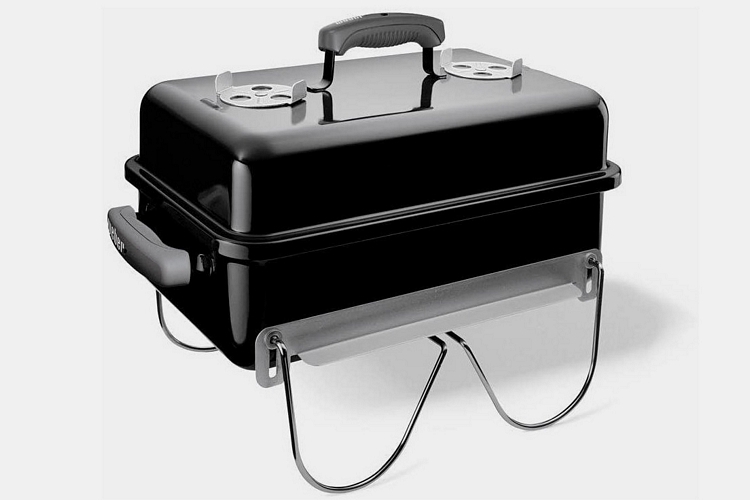 We'll admit, this is not the best-designed portable grill out there. The handles get hot to the touch, the vents are difficult to move, and it's got those wireframe legs that just get caught on things constantly. However, its simple design makes for a great grill for cooking on the go, with enough room on the grates to fit two steaks, six burgers, and about four quarter cuts of chicken. The compact size makes it easy enough to squeeze inside the heavily-packed boot of a car, while the thick build ensures this will hold up to years of cooking. Definitely a good, compact choice if you enjoy charcoal grilling.
Cuisinart CGG-180 Petit Gourmet Gas Grill With VersaStand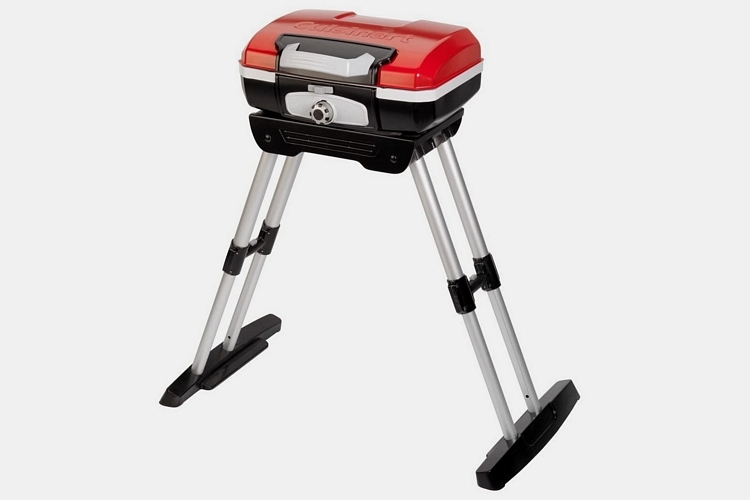 We love the design of this propane grill, which comes with a telescoping stand that allows you to use it at an elevated height even without a table anywhere in sight. It has a spacious grate that allows you to cook enough food for four people or more (the outfit claims it can fit food for six people) in one go, while the 5,500 BTU burner does a great job of heating the whole area evenly. A locking lid allows you to keep the heat inside for faster cooking, while a knob lets you dial in the right amount of heat at any time. Features include a quick-start ignition, a spill-resistant drip tray, a carry handle, and a total weight of 17 pounds. If there's any real downside, it's that the whole thing can get wobbly at full height, but we'll take it.
Primus Kamoto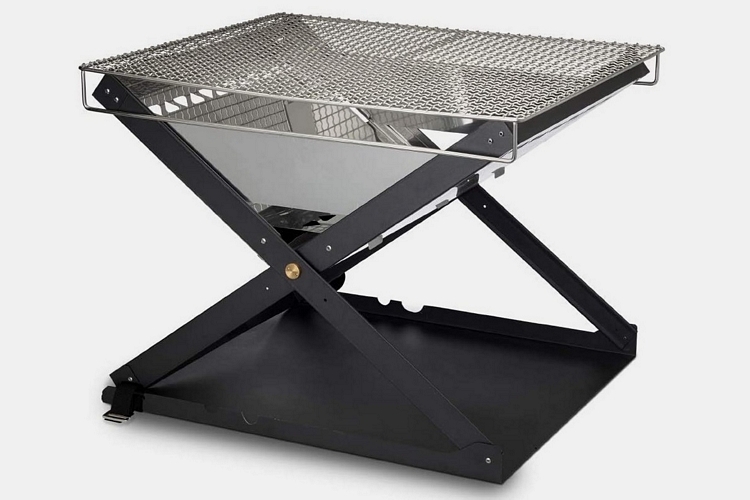 Truth be told, this is more of a fire pit than a grill. However, it does come with raised grates that you can put on top and windshields to control the fire, allowing you to grill steaks with the best of them. Of course, it's completely open, so you don't get the same control afforded by grills with integrated lids, although it's well-designed enough to get some proper cooking done wherever you're chilling for the day. Its best quality is its ability to collapse into a flat bundle, since all the parts can be disassembled and stashed together in a neat stack, making it incredibly convenient to bring anywhere. Of course, it also gives you a safe place to get a fire going at night, making it doubly useful in the outdoors.
GoBQ Portable Grill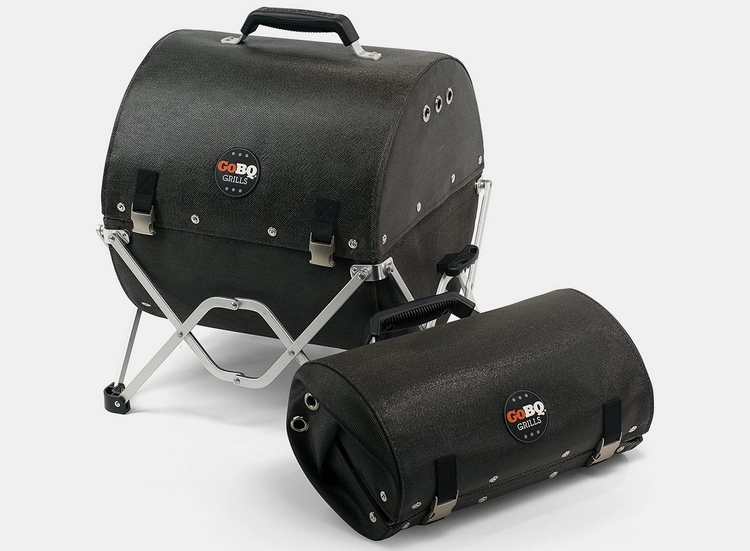 When collapsed, the GoBQ measures a compact 16 x 9 x 7 inches (like a very small gym bag), making it small enough to squeeze into backpacks for taking on a hike. Seriously, we can't imagine any functional grill more compact than this. It's able to collapse into that small size (17 percent of its total volume, according to the outfit) by using flame-retardant fabric for the housing, which means all but the grates, the fuel tray, and the supporting frame can be folded just like your clothes. When assembled, the grates measure 14 x 14 inches, allowing you to fit a whole load of food in one go. Do note, while the fabric is flame-retardant, it's still not completely fire-proof, so there's a good chance you'll get some fraying over time in areas constantly exposed to the fire. To avoid that, it's not a bad idea to cover those exposed sections (like the fabric under the fuel tray) with aluminum foil to help extend its life.
Weber Q 1200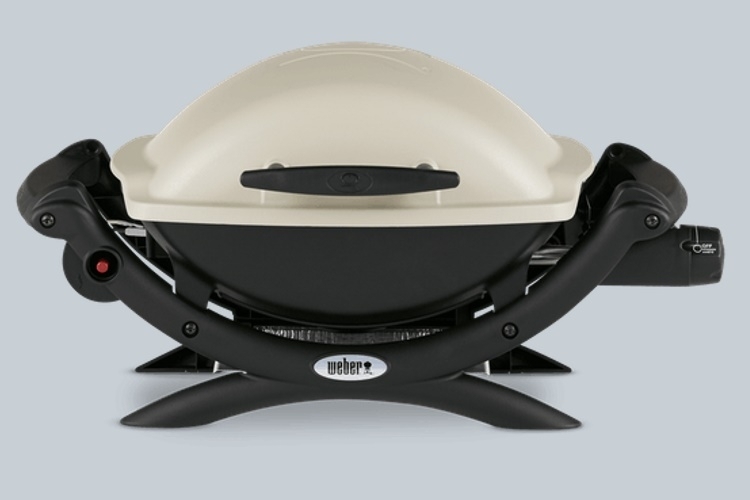 This propane grill has room on its porcelain-enameled cast iron grates for up to six burgers, along with a domed lid to keep all the heat in to maximize your cooking time. Powered using a one-pound propane cylinder, it enables even heating at consistent temperatures that you can dial in using a control valve on the side. There's a built-in thermometer, too, so you know exactly how hot the whole thing gets (especially helpful when preheating), while two fold-out side tables give you a place to put down tools, chop ingredients, and keep that beer you're chugging within easy reach. That one pound propane cylinder, by the way, is enough to let it cook for a couple of hours, so you can get plenty of cooking done for a small addition to your pack. It's an impressive grill, with plenty of premium design touches, including minimal flareups (because of the grate design), electronic ignition, precise adjustments, and a built-in grease management system that keeps things clean. The downside? The darn thing weighs 23 pounds, making us question just how portable it really is.