Running is a great exercise. Problem is, running also renders your pockets useless, as anything you put in will likely jump out and fall off before you even really hit your stride.
Fortunately, there are plenty of products that you can use to bring any essential gear and supplies you need during runs. You can use an arm strap to mount your phone and even stash small gear like keys and cash. There are also running vests you can use for even more storage space. The most common way to carry gear during runs, however, remains the running belt, a slim-fit, no-bounce fanny pack that lets you keep your stuff completely accessible as they sit along your waist, allowing you to grab a towel or a water bottle without having to come to a stop.
These are our favorite running belts.
SPIBelt Large Pocket Running Belt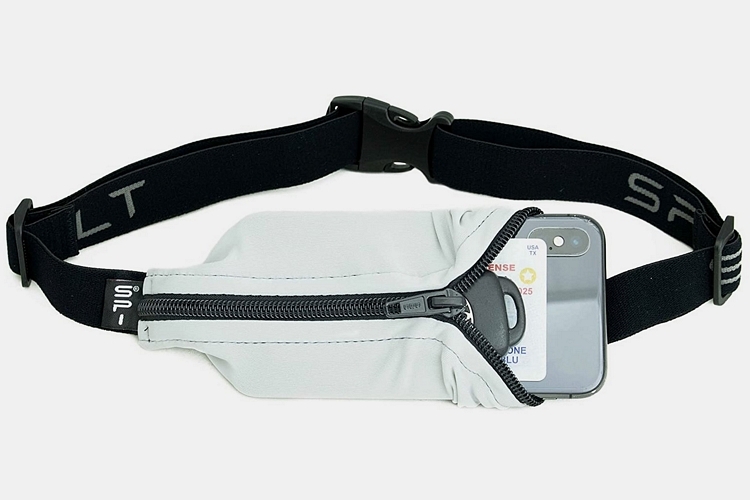 Yes, we thought the SPIBelt was a James Bond gadget, too, when it first came out over 10 years ago. Turns out, SPI actually stood for "small personal items," which is what this running belt pioneer was designed to carry. Consisting of a 1-inch wide elastic belt and a single flat stretch pocket that expands up to 8 x 4 x 2 inches, it allows you to carry your running essentials, whether it be a phone, an energy bar, or a few bills, so you can buy some water after you're done running. It can fit waists between 25 and 47 inches, with no dangling straps that will distract you throughout the course of your run. Do note, having just a single zippered pocket means you'll likely have to take out stuff to get smaller items in the back, so you won't exactly be able to reach for those keys without taking a quick break.
Nathan Zipster Adjustable-Fit Running Belt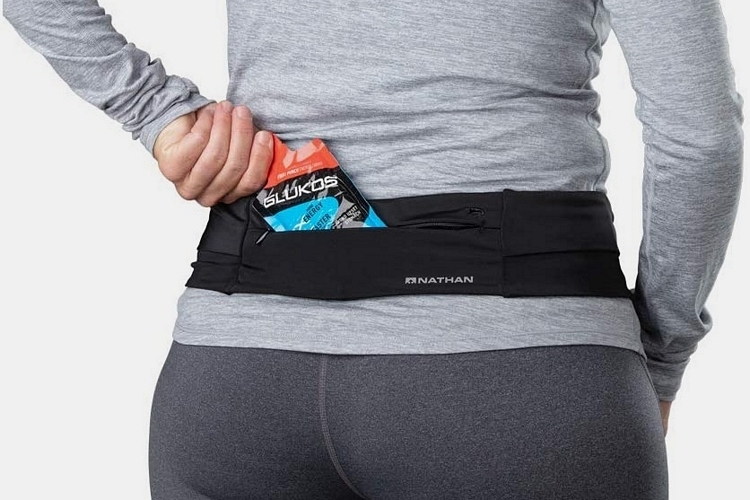 Like we said, having a single pocket is not ideal if you carry plenty of small items during runs. That's why this option comes with three, one zippered pocket in the center and two stretch flap pockets, allowing you to separate items to make them easier to take out while running. The zippered pocket is water-resistant, by the way, making it a great place to stash a phone and other electronics, while an elastic band tucks any excess parts of the adjustable strap snugly, so it doesn't end up dangling behind you. While it's not as comfortable as the SPIBelt or as spacious as some other options in this list, it does make for a great everyday running belt.
Lululemon Fast and Free Running Belt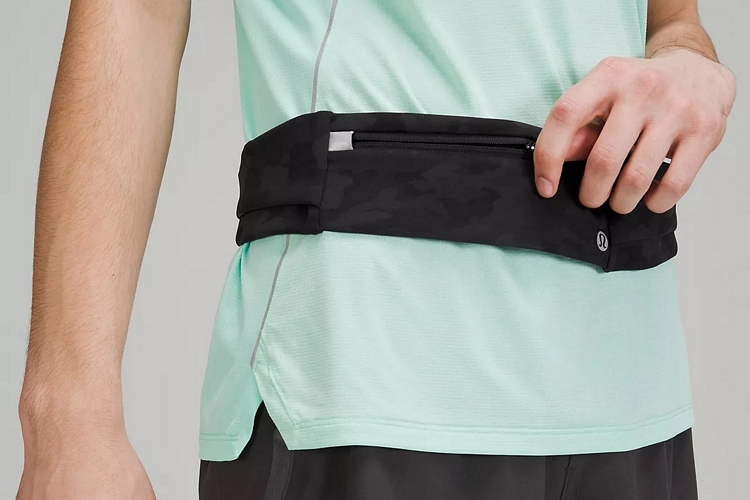 The slim profile of this belt belies just how much stuff you can actually fit inside, with the zippered stretch front pocket able to fit a decent-sized hydration flask and even some of the larger phones. There are also drop pockets on each side that can fit wallets, energy gels, and other small gear, while the elastic, sweat-wicking, and buttery-soft construction allows for a comfortable fit. It comes in two sizes, both sporting an adjustable waist strap that allows it to wear around a wide range of waist sizes, with the small model able to fit waists from 27 to 41 inches and the large able to accommodate 41 to 50 inch waistlines.
FlipBelt Zipper Adjustable Belt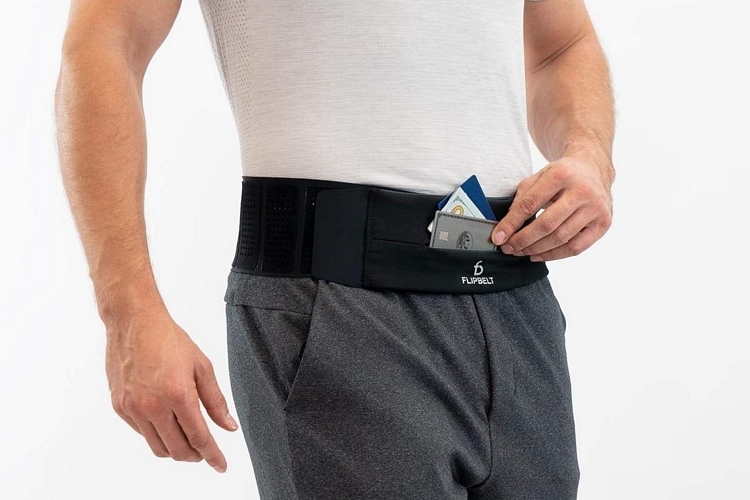 We've long been fans of the clean design of FlipBelt's running belt, but, like some other models here, weren't too thrilled about the fixed sizing. So when they released an adjustable model, we were instantly sold. Instead of using buckles or cinches to adjust, the belt uses a good, old Velcro closure, allowing you put it on and take it off in a jiffy. Even better, it has a wide range of adjustments, allowing it to fit waists between 28 and 48 inches. Like other FlipBelts, it has a wide open storage space all around the belt, except, in this instance, it doesn't run from hip to hip as it needs to accommodate the adjustable Velcro section, so storage should be a bit smaller. You know how that hip-to-hip pocket makes getting stuff hard on regular FlipBelts? It's the same here and probably harder, since you only get two access openings instead of the three on non-adjustable models. Still, it retains the same features that has made the FlipBelt so popular (it just has so much room), all while allowing for generous size adjustments.
CamelBak Ultra Running Hydration Belt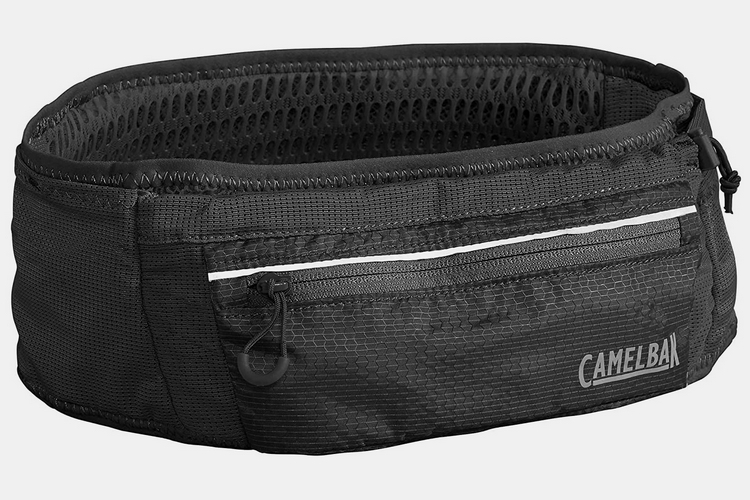 CamelBak calls this running belt their "most minimal waist-mounted hydration solution for running," which probably makes you think it's designed to carry just the bare essentials. Definitely not the case, as this belt has enough storage room for two liters' worth of gear, allowing you to bring a good load of stuff during your runs. It has a zippered pocket out front sized to hold most phones, a large cinch pocket in the rear, drop-in pockets on the sides, a drop-in pouch behind the front zippered pocket, and even loops you can use to hold a trekking pole or a rolled-up shirt. Basically, it's not minimalist in the least. It also includes a 17oz hydration flask with a one-piece silicone bite valve that fits snugly in the back pocket. The biggest downside here is fact that it's not adjustable. Even worse, it only comes in three sizes, namely small, medium, and large, with the small able to fit 26 to 30 inch waists and the large one able to fit a maximum 35-inch waistline, so you have to be reasonably fit to get into one of these.
Naked Running Band
Unlike some running belts in the list, this one isn't adjustable, so you'll have to order it in your exact size to get a proper fit during your runs. For that hassle, though, you get a generous selection of pockets to stash a good load of supplies (total two liters of capacity), from hydration packs and energy gels to smartphones and sunglasses. Specifically, it comes with two large pockets, one in front and one in the back, as well as two smaller pockets on the sides. They even threw in two external loops right by the rear pocket, allowing you to stash a rolled-up shirt in there (or a trekking pole during mountain runs), so you can change after your run. It's non-chafing and bounce-resistant for comfort, while having reflective elements that will give you visibility during night runs.
Nathan TrailMix Plus Insulated Hydration Belt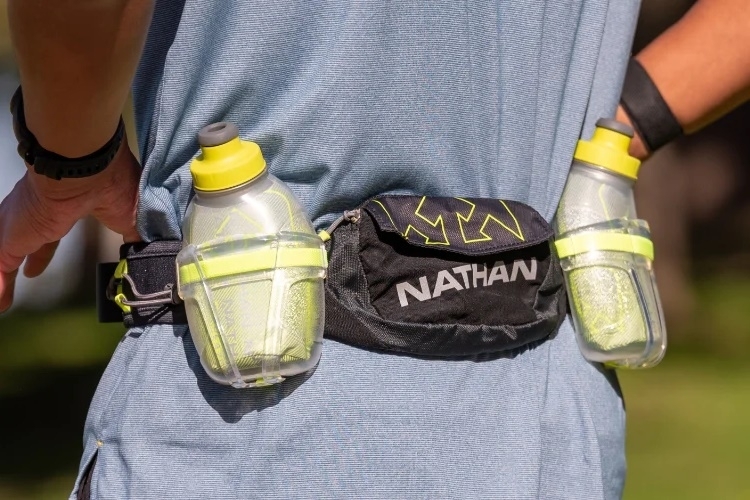 We love the stability of this bottle-carrying running belt, which is equipped to hold the two included 10oz bottles, allowing you to have easy access to 20oz of refreshment without having to pause your run. The bottles are insulated, too, so you can enjoy an ice cold sip to really quench that thirst on the go. Between the two bottle mounts sit a zippered pocket that can hold most large phones, as well as a pouch right in front of it for cards, keys, and anything else you need for the run. It has some really nice features, including two shocks cords with a tension lock at the sides, elastic keepers to keep excess strap from fangling, and an integrated reflective fabric to keep you visible at night. The fit can adjust from 26 to 44 inches, making it suitable for a wide range of folks.