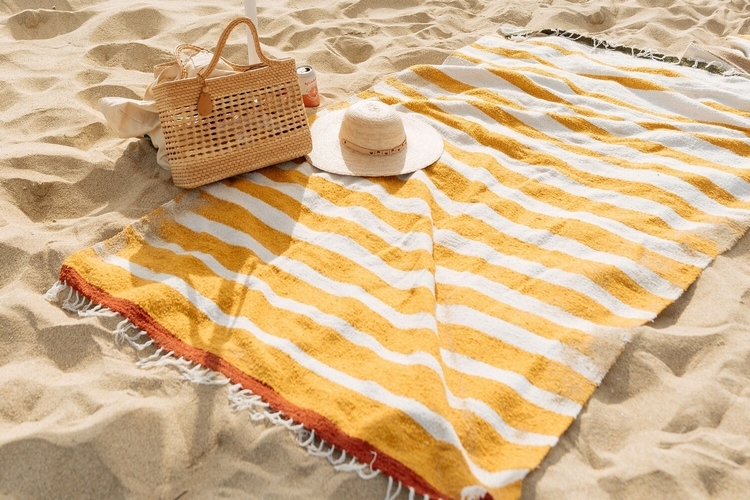 Enjoying the local beach to cool down in the heat of summer? Fun. Getting sand all over your legs, on your back, and under your swim shorts when you plop down for a brief rest? Not so much. That's why a good beach blanket is such an important part of a beach trip, as it gives you a handy surface to keep the sand away when you want to plop down near the water.
No, you can't just take a towel from your bathroom and take it to the beach. Not only is it way too small for what you'll need to cover the ground, they also tend to be extremely absorbent, which means you'll likely end up sitting in a soaking wet surface if you lay a bath towel in place of a proper blanket. Plus, sand likes sticking to those terry cloth and microfiber fabrics they use for towels, making them an overall uncomfortable mess. To put things simply, stick with a proper outdoor-grade beach blanket.
These are the best sand-free blankets to bring to the beach this summer.
Demmex Diamond Weave Turkish Towel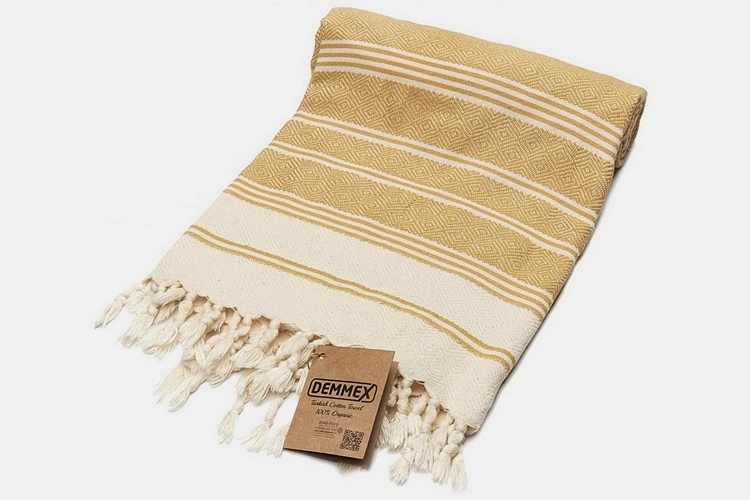 If you want something as small and light as possible, pick up this beach towel, which measures 39 x 71 inches, making it just big enough for one person to lie down on when sunbathing. It's made from 100 percent GOTS-certified Turkish cotton, so it absorbs well, dries fast, and shakes off sand like you shrug off calls from work when you're on your day off. Unlike similarly-priced Turkish towels, this one doesn't feel too thin. In fact, it feels just the right amount of thickness, as there's enough material to dry you off when needed. It's prewashed, so it's soft right from the get-go, all while coming with a stylish diamond-weave pattern that makes it look more luxurious. They also put in double tassels to better prevent unraveling over time. Comes in 24 designs.
OCOOPA Beach Blanket XXL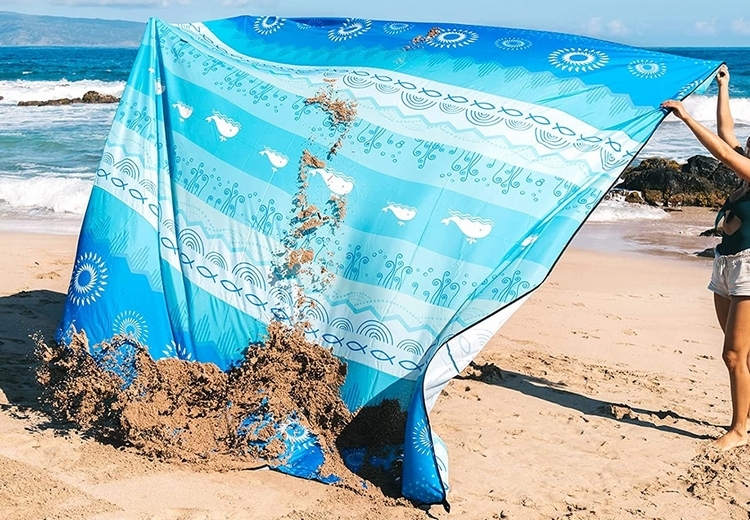 If you're taking kids to the beach, then you want as much as space as you need to let them sprawl around and play without getting sand all over their bodies. Nothing will do that better than this oversized blanket, which measures a whopping 10 x 9 feet, giving you all the room you want to sit, lounge, and even roll around while on the sand. Unlike traditional blankets, this won't dry you off, as it's made from nylon, so you'll likely have to swipe off any water that drips down from your soaked body when you sit down after a swim. Of course, the same nylon construction means it won't hold sand, all while being very resistant to tearing, making it great for those rowdy kids at the beach. Features include four anchor stakes for securing it on the ground, four corner sand bags if you'd rather weigh it down, and a rolled up size of just 9.4 x 6.3 inches (length x diameter).
LL Bean Seaside Beach Towel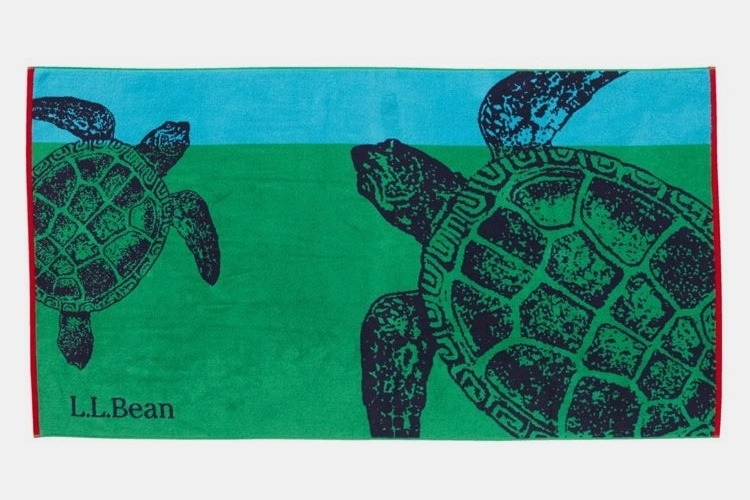 This one's a summertime classic. As such, it's not as efficient at packing down as others in the list, since it's made from 100 percent ring-spun cotton. It's very absorbent, so much so that you can feel it drying you off fast, with a fluffy cotton build that's just extremely soft and comfortable to lie on. Is it as a sand-averse as other products in the list? No, as the fluffy side can catch sand, so make sure you lay it down with that fluffy side up (the other side can shed off sand much easier). We also think the entire line from LL Bean are some of the best-looking beach accessories we've seen.
Matador Packable Beach Towel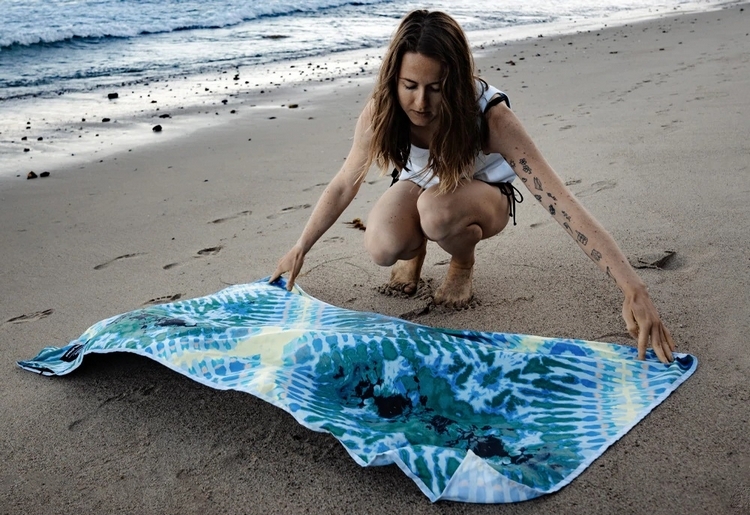 We all know Matador for their pocket blanket, a functional mat you can use to sit down on that folds up to a pocket-sized bundle. This is the beach-friendly version of that product, which comes in a smaller size resembling traditional beach towels (60 x 30 inches) but packs a little bigger (it won't fit in your pants pocket). Why? Because it uses an absorbent nanofabric material that can take 2.3 times its own weight in water, allowing you to use it to dry off when needed. It's also quick-drying, so you can air it out and it will be ready for use as a beach mat in a jiffy, while shedding off sand with the best of them. There's a zipper pocket that you can use to hold important items, which also doubles as its storage pouch when it's time to pack up.
Slowtide Dylan Throw Blanket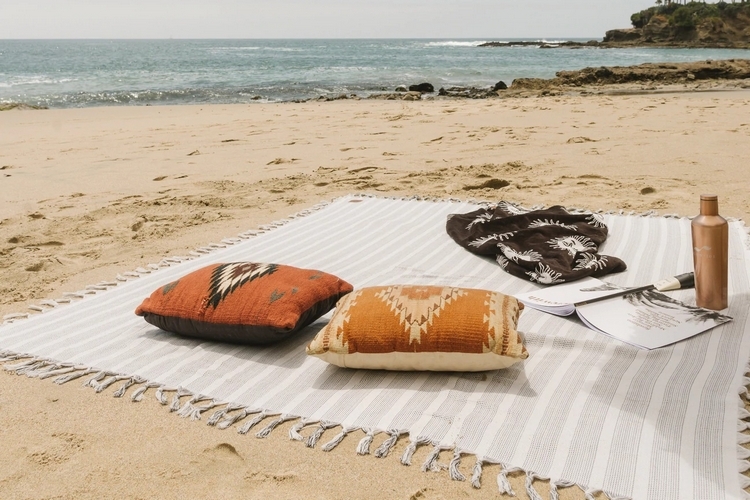 Made from Turkish-style chambray fabric, this blanket gets softer with every wash, making it feel incredibly luxurious even after many uses. It also absorbs water as well as terry cloth, allowing you to use it to dry off if you left your towel behind, all while drying much quicker, so you won't be stuck sitting on a soaking wet blanket for the rest of the day. While sand can get on the blanket, it doesn't stick, allowing you to simply shake it off to get a sand-free surface to sit or lie down on, all while being thin enough to roll up small and light, allowing you to take it on long walks across the beach. This particular model measures 80 x 66 inches, making it big enough for two people to lie down on or for a small group to rest their legs for a bit.
Tesalate Bora Bora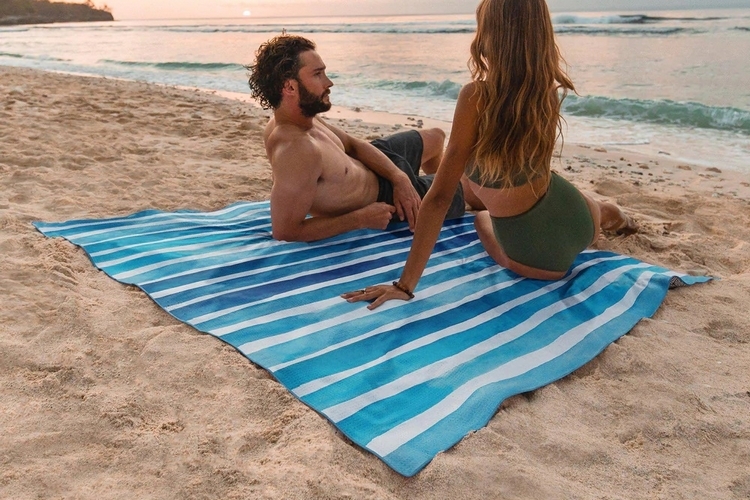 This two-person beach blanket measures 63 x 63 inches, making enough room to fit two people comfortably, all while being cut in the outfit's own AbsorbLite fabric, which is designed specifically for the beach. The fabric is highly absorbent, allowing you to use it to dry off when needed, all while drying twice as fast as traditional towels, so you can air it out for a bit and have it ready for use shortly. It also repels sand, so you can easily swipe off any granular sediment that gets on the blanket. This particular model comes in a simple striped design that always looks good, no matter who's using it. Other features include a double-sided design, a handy hook for easily hanging to dry, and a pouch sized to hold the blanket when rolled up.
Caminito Marea Collection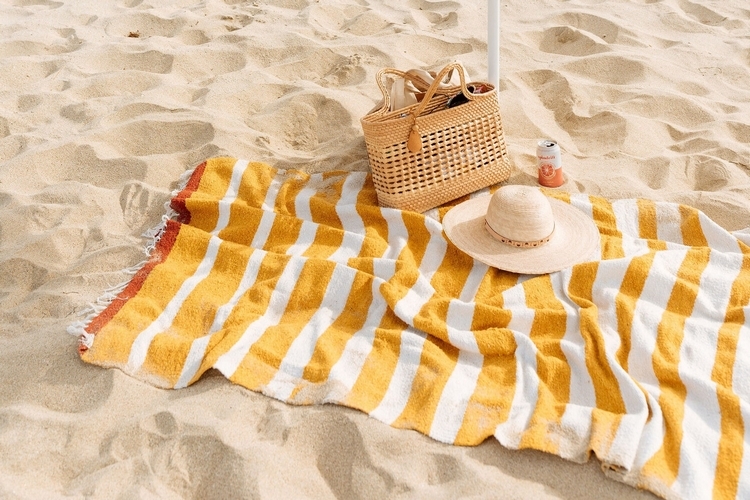 Made from a blend of acrylic, polyester, and cotton, this blanket isn't great for drying off, as it tends to resist moisture, making it great for laying on the sand for a day of lounging all while also shedding off any sand that gets on without giving you any hassle. What we really love, though, is its handwoven build and the gorgeous results that created. Seriously, this is the type of blanket you'll want to take to the beach, the park, and the campsite, all while still using it as a throw blanket at home. It has tassels at the end, as well as a handmade leather strap that secures it when rolled up. At 83 x 51 inches, there's plenty of room, whether you want to sunbathe, have a picnic, or just lounge around with a couple of friends.