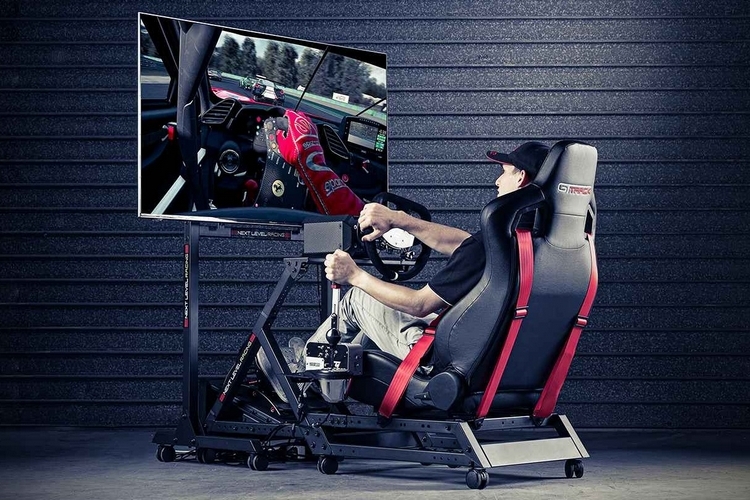 Racing sims are an incredibly fun timesink. They're even more fun when you have a proper racing wheel and pedal setup. However, if you want to raise the ante on realism and immersion, you may as well go all the way and get yourself a full-fledged racing cockpit. Designed to enhance the sim racing experience, these cockpits recreate the ergonomics of operating a real car by sitting you in a proper racing seat while mounting your steering wheel and pedals at proper driving positions.
Most sim racing cockpits consist of simple frames with integrated racing seats and built-in mounts for your racing controls. More elaborate ones might include mounts for a multi-monitor setup, so you can recreate the full view from a car's windscreen, while the really elaborate, really expensive setups can even integrate hydraulic motion systems that can accurately simulate the physical sensations of driving, really cranking up the realism to extreme levels.
Of course, those advanced racing cockpits are so expensive, they rarely make sense for anyone other than actual professional racers or extremely well-heeled hobbyists. For the rest of us, basic systems that enable realistic driving ergonomics is enough to level up the immersion in a way that makes your favorite racing sims feel entirely new.
These are the best sim racing cockpits you can get today.
Playseat Challenge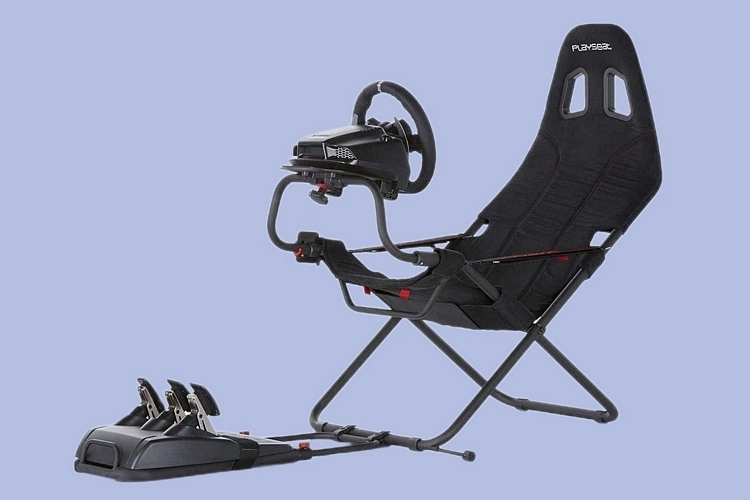 If you want a functional racing cockpit with minimal footprint, you might appreciate this compact one from Playseat, which is, basically, a folding chair repurposed into a functional sim racing platform. And yes, it folds like any camp chair, allowing you to flatten it into a pile and tuck it under the couch (or the bed) when not in use.
While it doesn't quite have the full-fledged bucket seats you'll find in other racing cockpits, it does have a racing-style variant of those typical folding chair seats and back rests, although the form factor does leave you limited in the kind of adjustments you can make. The frame of the chair's armrests extend out to the front, where it hosts a mounting plate for your steering wheel, while the legs also extend along the ground out front for the integrated pedal plates. There's no separate shifter plate, though, so you'll have to rig it right next the racing wheel if you really want one. Made from powder-coated steel, the chair can support weights of up to 200 pounds. Is it even comfortable? Kind of. Chances are, you'll want to add a pillow here, a booster there, but you should be able to find a comfortable position for extended sim racing sessions
GTR Simulator GTA Model Racing Cockpit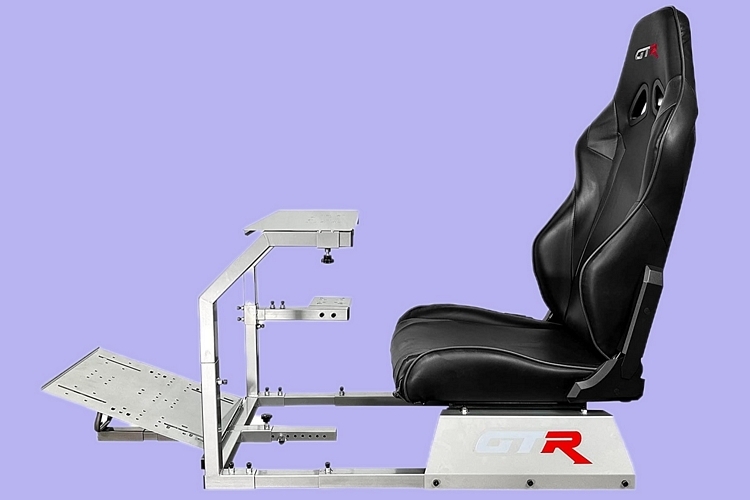 GTR Simulator's affordable cockpit model gives you a fully-reclining racing bucket seat mounted on a laser-cut steel alloy chassis that should be durable enough to last you through many seasons of racing. The mounting plates for both the racing wheel and pedals are pre-drilled with screw holes in a variety of layouts, ensuring it can work with all major brands and models of wheels, pedals, and shifters, so it should be compatible with any rig you're using. While the seat height is fixed, you can adjust seat distance and seat angle, as well as steering height, steering distance, pedal angle, and pedal distance, so you can tailor the ergonomics exactly to your liking. It's not the sleekest-looking cockpit with that bare metal frame, but it will definitely get the job done.
Playseat Trophy Logitech G Edition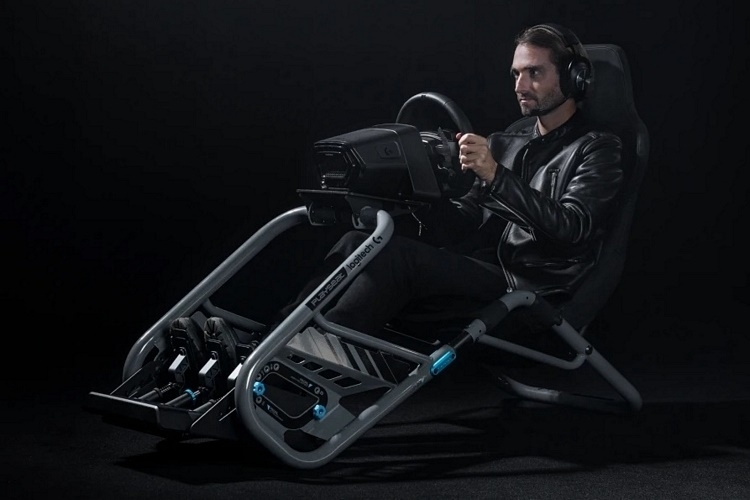 This Logitech-branded version of Playseat's racing cockpit combines a shapely metal chassis with an integrated racing seat that can be moved up and down the frame, with the ability to tilt forward and backward, so you can dial in the perfect position to reach the steering wheel and pedals. The seat has adjustable lumbar support, a reclining backrest, and even firmness adjustments, apart from being covered in the outfit's Actifit material that's really good at dissipating heat. Both the steering plate and the pedal plates can be adjusted at various angles, although you'll need to bolt any adjustments down, so you can't simply customize the ergonomics on the fly. Construction is carbon steel, by the way, so it should be sturdy enough to handle everything your sim racing obsession can throw its way.
Next Level Racing GTTrack Simulator Cockpit
At just under $1,000, this isn't the most affordable racing cockpit. It is, however, an excellent choice for those who want a pro-grade setup that can be further upgraded when you have the extra funds to take your sim racing another level. It starts off with a highly-rigid carbon steel chassis designed to hold firm even when used with feedback-heavy direct-drive racing wheels, ensuring it's tough enough to handle even clumsier, heavy-footed drivers with ease. The integrated bucket seats come with four-point racing harness, so you can strap just like in the real thing, all while allowing adjustments for seat distance, seat angle, steering height, steering angle, pedal distance, and pedal angle. It also comes with mounting plates for pedal shifters. The cockpit is compatible with the outfit's own motion systems, namely the Motion Platform V3 and Traction Platform, allowing you to easily add motion simulation to your setup once your budget is up to the task.
Sparco Evolve GP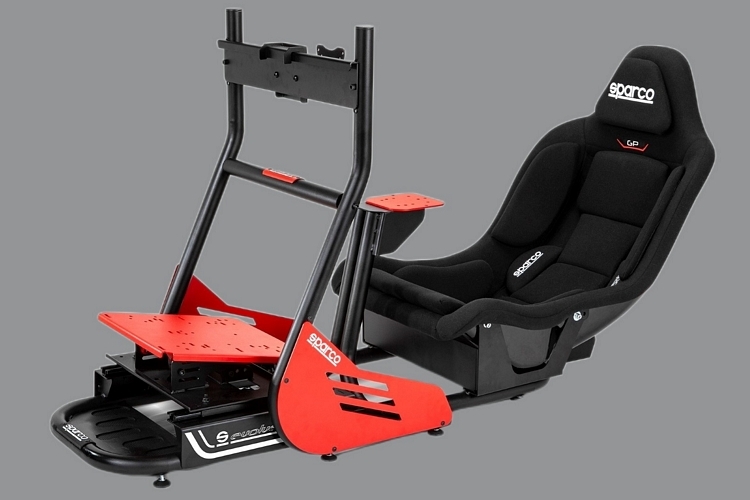 If you want a cockpit that capably simulates that distinct low-angled Formula-style driving posture, this sim racing rig from Sparco definitely does the trick. The built-in racing seat comes with customizable padding, so you can tailor it to deliver the most comfortable ergonomics, while adjustable mounting platforms for both the racing wheel and pedals should let you find your ideal driving posture, regardless of your physical proportions. It's incredibly sturdy, too, allowing you to use even motorized force-feedback wheels with no hassles, while the integrated monitor mount lets you put the game screen within your immediate sights. Granted, it feels a little too expensive for what it brings, but the build, construction, and overall design do feel premium enough to justify the cost.
CXC Motion Pro II Racing Simulator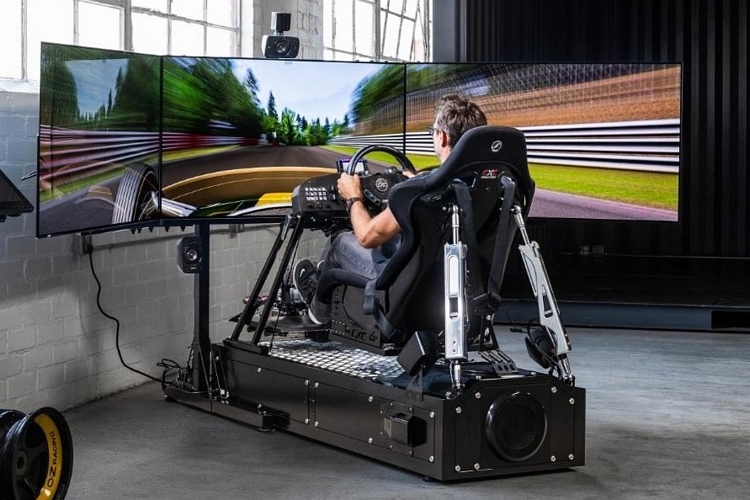 If you want a full-fledged cockpit with high-precision motion simulation in tow, you've got to be prepared to spend an unholy amount of money. Such is the case with this model from CXC, which integrates a full motion system, allowing it to simulate every twist and turn of your vehicle on the track. It has a large base enclosure that houses much of the motion system's hardware and electronics, with a pair of large hydraulic actuators sticking out in the rear and controlling the seat's movements. The seat has built-in rumble motors, too, allowing it to recreate fainter sensations. Suffice to say, this thing makes you feel like you're driving an actual car.
They offer plenty of customization options. You can, for instance, opt for a standard racing seat or a competition-style containment seat, five different types of racing wheels, and three styles of shifters. You can also opt for single-, dual-, or triple-display options, with the latter getting you a trio of 77-inch panels.