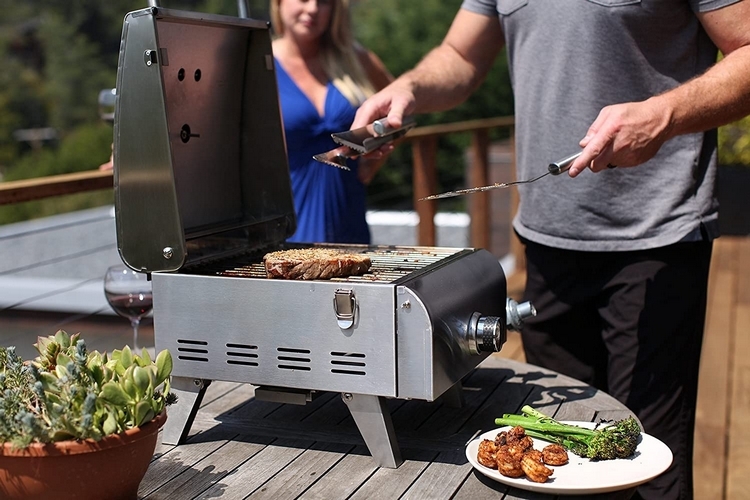 Those large backyard grills with roomy grates and tall lids are nice and all, but unless you have a big backyard, there's probably no chance you can use one in your home. Many of us live in homes with limited outdoor space for grilling, whether it's a cramped backyard, a small patio, or a tiny balcony. Fortunately, there's no shortage of grilling options for those setups, allowing you to enjoy flame-cooked steaks, burgers, and other food items all throughout the year.
There are two main ways you can go when it comes to small grills. You can opt for standard grills that are smaller in size than your typical backyard fare, basically setting one up as a semi-permanent fixture in that small corner of space you have available for it. The other way is to go with portable grilling options. Basically, those grills that are designed to collapse and pack down into a bundle that's easily transported. While we like the fact that you can stash your grill in a closet when not in use, it's actually kind of annoying having to unpack everything whenever you're in the mood for grilling. Whichever of those main groups you go, though, both should make for viable options as far as grilling in small spaces.
These are the best small grills to bring flame-cooked goodness to your limited outdoor spaces.
Cuisinart CFF-608 Portable Grill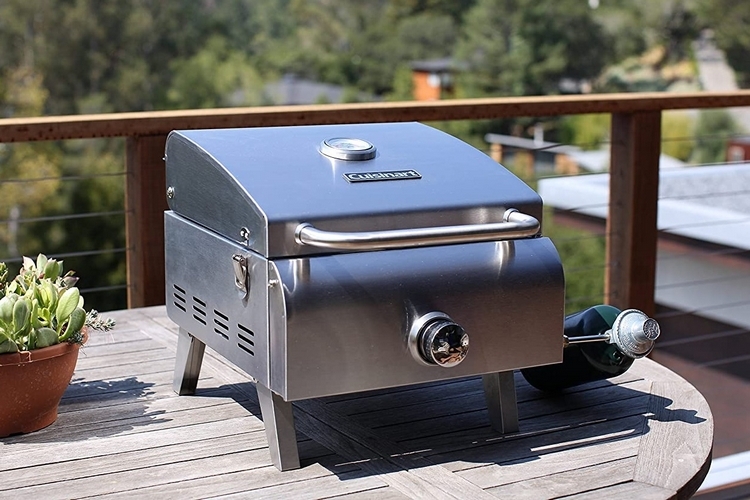 If you're really, really short on space and prefer the convenient quick heat of a gas grill, you'll definitely like Cuisinart's single-burner option, which gives you 184 square inches of cooking surface. It has a 10,000 BTU burner, so this can feed some serious flames to your grilling sessions, with a twist-start ignition to get you up and running in a pinch. The darn thing can heat up fast with the lid down, so you can preheat without the long wait of typical charcoal grills. Do note, the temperature quickly drops as soon as you lift the lid, athough it does a really good job of raising it back up soon as the lid goes back on. The only struggle here is cooking with low temperatures, as even putting the burner on low keeps the gauge at around 400 degrees, so you're going to have to lift the lid if you want to cook some food with gentler heat levels. We appreciate the no-nonsense stainless steel build, too.
Char-Broil TRU-Infrared Kettleman Charcoal Grill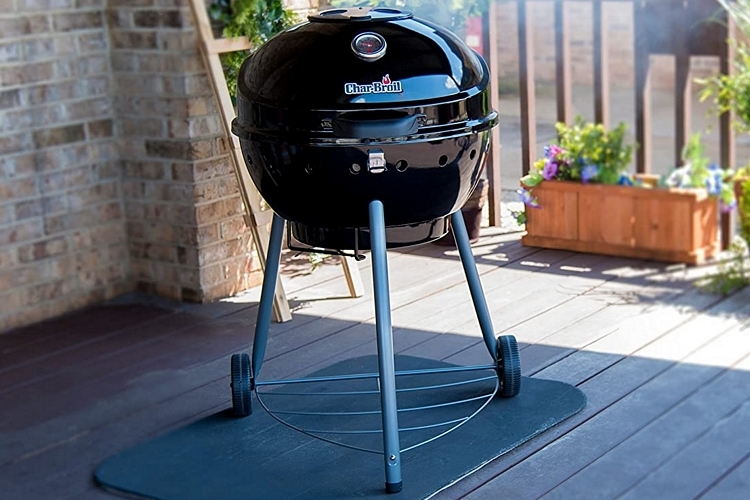 This kettle grill takes up a limited amount of floor space (just 26 x 26 inches), all while giving you a kettle grill with 360 square inches of cooking surface, which is enough room accommodate up to 18 burgers in one go. It uses charcoal for cooking, albeit with the aid of the outfit's TRU-Infrared technology, which is integrated into the grates, creating a unique barrier between the food and the flames. When used, the tech, basically, spreads heat evenly across the cooking surface, allowing you to better control the temperature while eliminating any flare-ups. Features include adjustable grate (you can position it closer or further from the charcoal), a thermometer on the hinged lid, a large adjustable vent on top for controlling the air flow, integrated vents around the kettle for continuous airflow, and a removable ash pan.
Kamado Joe Joe Jr. with Cast Iron Stand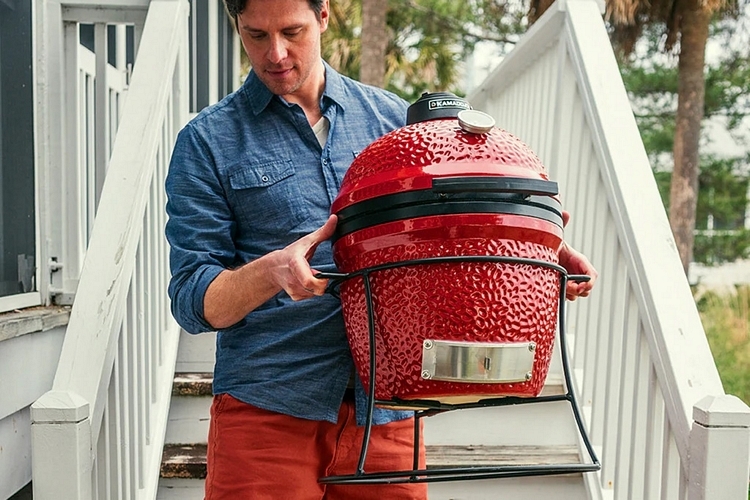 Kamado Joe's smallest offering, this kamado grill comes with a cooking surface that measures 13.5 inches in diameter, which is enough room to accommodate up to seven burgers or two whole chickens. Like other well-made kamado grills, the thick ceramic walls allow for superior heat and smoke retention, allowing it to efficiently cook and flavor your dishes, while the cast iron air vent and built-in thermometer on the lid allows you to manage the airflow to maintain your desired temperatures. It comes with a ceramic heat deflector for cooking with an indirect open flame, which makes it easier to properly cook your food without drying them out, as well as a cast iron stand that elevates it from the table surface, so the hot ceramic never touches any part of your outdoor furniture.
Weber Traveler Portable Gas Grill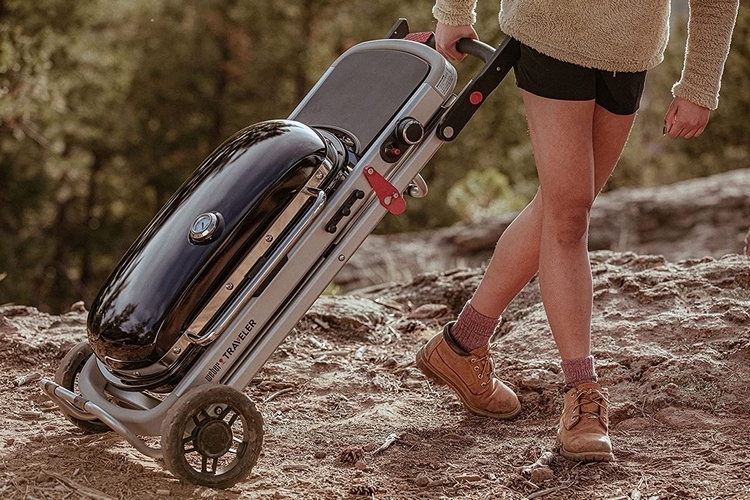 This portable grill comes with 320 square inches of cooking space, which is enough to fit 15 burgers or 20 sausages in one go, all while giving you a small workspace right next to it for setting down tools and supplies. What makes it really special, though, is that the whole thing can collapse into a flat pile that resembles the form factor of a small hand truck, allowing you to easily tow it from one spot to another. The grill has itself has a 13,000 BTU burner system that heats up fast enough to get it to 400 degrees in just over three minutes, allowing it to cook food pretty efficiently. This is a perfect grill to have if you want to have a grill you can pull out in a pinch, then put away to the side to free up the space as soon as you're done.
Fuego F21C-H Element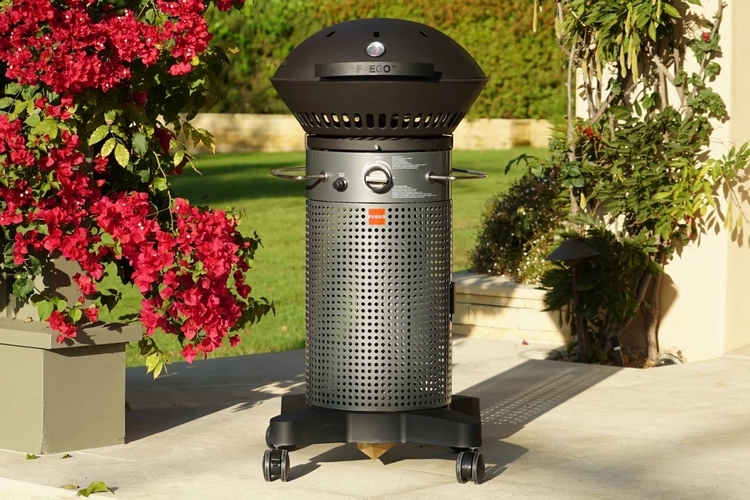 We love the thoughtful design of this gas grill, which comes with an integrated compartment for your gas tank at the base, allowing you to keep your grilling setup looking neat and tidy. Seriously, this looks as premium as a small grill can get. Taking up a floor space of just 21 x 21 inches, the grill offers 346 square inches of cooking surface, which is enough to fit up to 14 large burgers at the same time. It has a 22,000 BTU dual-zone burner system that allows it to hit temperatures of 650 degrees Fahrenheit. And it heats up fast, with the cooking area preheating to 500 degrees in just over five minutes, so you can start cooking in short order. The grates on this grill alone weigh 15 pounds on their own, allowing it to absorb a lot of heat for giving your food a really good sear. Features include an easy-clean residue tray, a safe clasp door closing system for the gas compartment, a pair of metal handles on the sides, and four casters at the base.
Weber Lumin Compact Electric Grill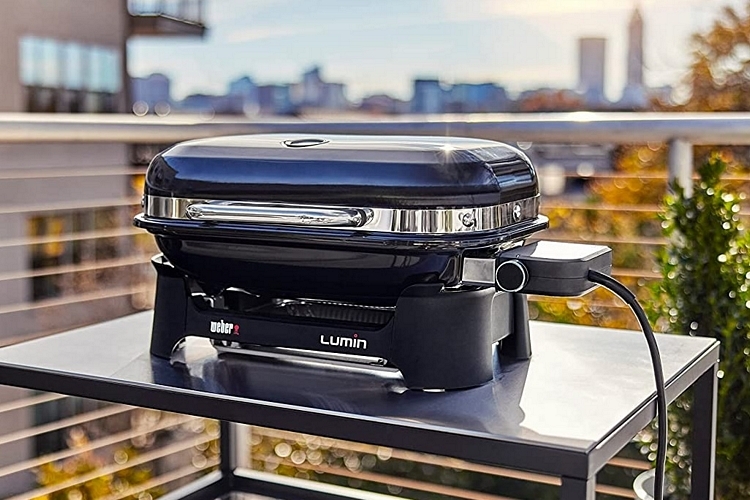 If you want a more sustainable grilling solution, electric is the way to go. Weber, of course, has embraced this, too, with this compact electric option, which mimics the way traditional gas grills work. Instead of putting your food on a hot plate like other electric grills, it uses cast iron grates on top of an electric heating element to ensure your food develops those pretty grilled char lines. Even better, it's able to achieve hot cooking temperatures of up to 600 degrees Fahrenheit, which it reaches in around 15 minutes of preheating. This compact version comes with 180 square inches of cooking surface, which should be enough for small family meals, although they also make a slightly larger version with a cooking surface measuring 242 square inches. On its own, the grill is designed to set down on a tabletop, although Weber also offers a dedicated stand, along with other accessories such as a griddle, a smoker, a steamer, and a food warmer.
Weber Performer Deluxe Charcoal Grill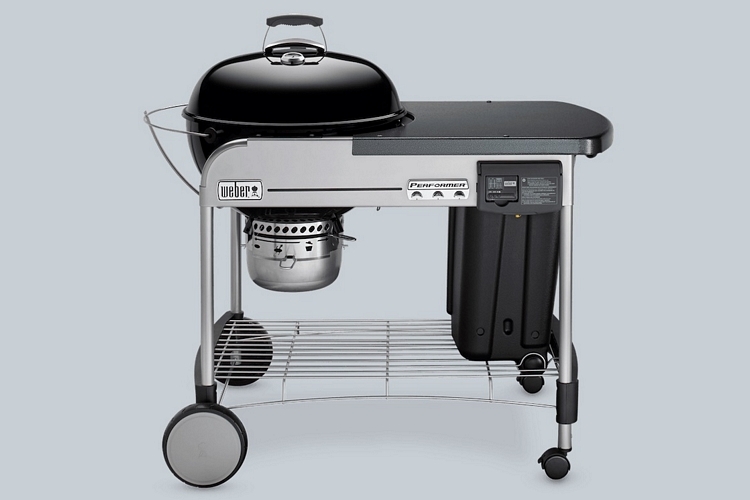 We're not sure when this grill first came out, but it's been around for a while and remains one of the best options currently in the market. How many of the smaller grills out there, after all, give you a work top as big as this, all while giving you rack space underneath for storing both food, tools, and supplies. Granted, all those extras mean it's not as space-saving as others, but it does make for an interesting option all the same. It's a charcoal grill with a roomy grate that's sized to fit up to 13 burgers in one go, allowing you to cook a good load of food while taking up little room. If you hate having to manually light up charcoal, you'll be glad to know this has a propane-powered ignition system, so you can set your fuel ablaze with just the push of a button. It's feature packed, too, with a thermometer in the lid for keeping track of temperature, dampers that you can use to control the flow of oxygen to the coals, a built-in timer so you can check cooking times without any extra tools, and built-in charcoal storage.