Whether you have a large backyard, a small patio, or any kind of open area in your home, using smart outdoor lighting is one of simplest ways to spruce up the space. It brings an ambience that makes any space feel warmer and more inviting, especially if you enjoy having friends and family over. Not to mention, having lights that can switch on when it detects people will help keep untoward accidents from happening at night, all while adding a helpful level of home security, as they make it easy to create the appearance that your home is occupied even when everyone is away.
These are our favorite smart outdoor lighting options.
Cree Lighting Connected Par38
While this is designed to install on floodlight fixtures, it should install on pretty much any available outlet in your outdoor space. While it can deliver a shockingly bright 1,200-lumen light the way a floodlight does, the smart function means you can easily adjust its brightness, so it delivers just the amount of light the space needs. There are no motion or light sensors onboard, so you won't be able to have it light up automatically based on real-time events. However, its wide selection of colors and color temperatures allows it to set the mood outdoors for cheap, complete with the ability to gradually shift throughout the day to mimic natural sunlight if you put it in shaded area of the backyard. It also doesn't require pairing with a hub, as you can control it directly from the app for absolutely convenient function. Plus, the fact that it's so affordable makes it possible to install this in every outdoor outlet you can find.
Ring Solar Pathlight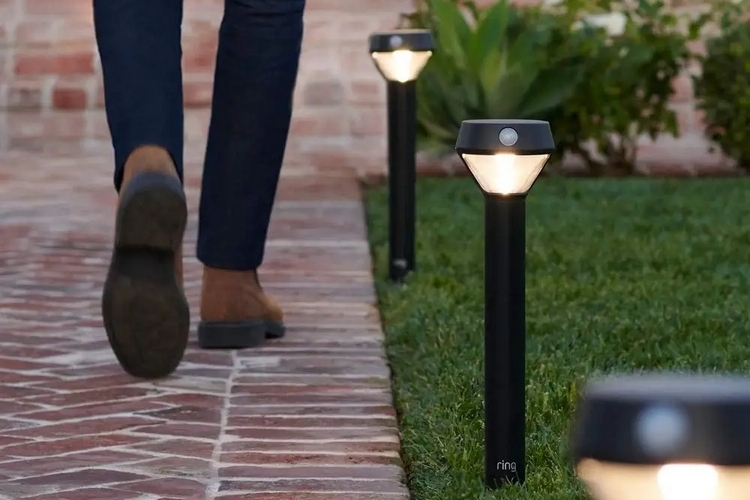 While Ring has a regular battery-powered version of this path light, we prefer this version, which adds solar charging (perfect for something that sits outdoors) for just an extra five bucks. That means, you'll probably never have to charge this via USB ever, unless you're unlucky enough to experience half a year of darkness due to some catastrophic climate event or something (in which case, outdoor lighting probably isn't your biggest concern). It delivers 80 lumens, 3500K of down-lit glowing white light for lighting up walkways and paths, with a built-in motion sensor that switches it on as soon as it detects any type of movement in the vicinity. You can also control it, as well as set lighting schedules, from the companion app. It won't automatically light up during the day, by the way, as the built-in light sensor lets it know when illumination is not necessary.
Ring Floodlight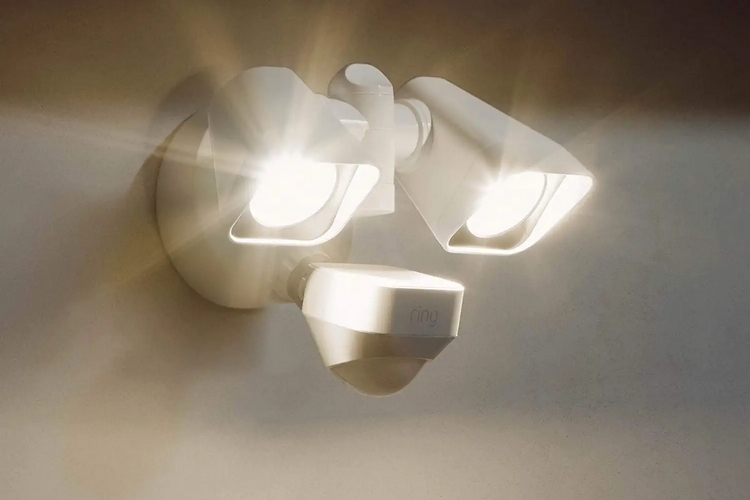 There's nothing elegant about a floodlight. However, when you need to shine a strong light in your backyard, driveway, or any other outdoor section of your property, it gets the job done in a jiffy. This model from Ring shines a bright 2,000-lumen glow to quickly illuminate a space, although it does require hooking up to your home's wiring. While the outfit offers a battery-powered version, the 600-lumen max brightness just isn't enough for a proper security floodlight. This one, though, delivers the sudden blinding light that makes floodlights so useful. It's motion-activated, much like any standard floodlight, although you'll need an existing Ring Bridge to fully take advantage of its smart features, including notifications, settings, and syncing with compatible devices.
Govee Outdoor String Lights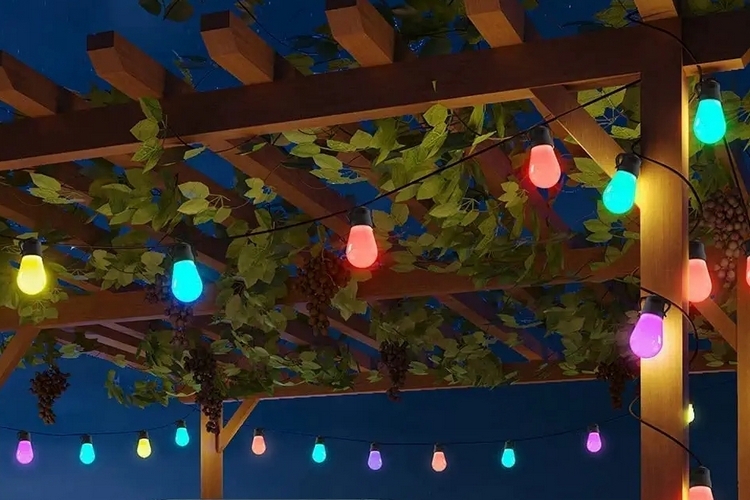 If you want to add smart lights to an outdoor area, but don't want the hassle of adding an outlet, a smart string light is always an excellent option. This model from Govee gives you 15 multicolor bulbs in a 48-foot line, so you can cover a great deal of space using just one set. Even better, each bulb can be controlled independently, so you can have them shine in different colors (16 million available) to create any kind of ambience you want at the moment. The app also offers 40 preprogramed scene modes, so you can quickly set your outdoor scenery, as well as letting you activate a music sync mode that will have the lights reacting to any music playing (it has an integrated mic). Features include voice control (via Alexa), shatterproof housing (it's plastic), and the ability to connect up to two lines for 96 feet of total length.
Philips Hue Lily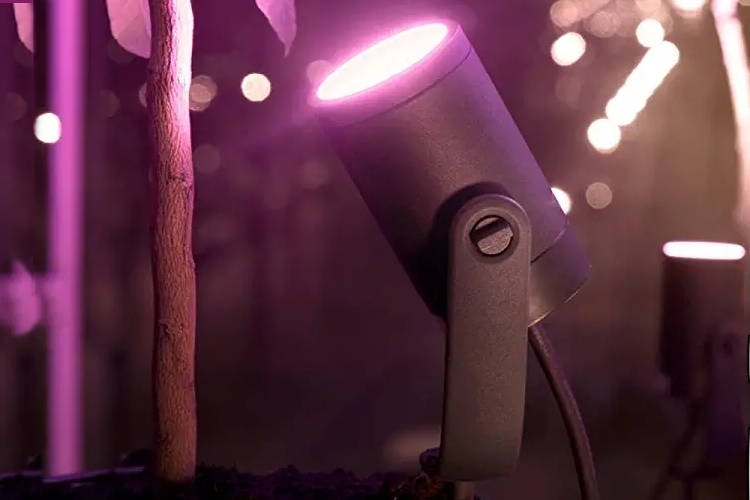 This outdoor spot light looks like the kind of lighting you'll find on stage during concerts and shows. It works much the same way, allowing you to shine light on specific areas of your home's exterior, landscaping, and garden to showcase them with a dramatic play of light and shadow. You can hang them from the ceiling, mount them on a wall, or stake them on the ground, too, depending on what kind of lighting effect you're trying to create.
With 600 lumens of brightness in tow, it offers a lot of light in a small package, making it very effective for decorative illumination, especially with the ability to change into any of 16 million colors and fine tune the color temperature (it has 50,000 shades of warm to cool white light). Suffice to say, if you want to give your yard spaces and outdoor areas the same feel as the fancy al fresco dining area in your favorite restaurant, this does the trick.
Philips Hue Calla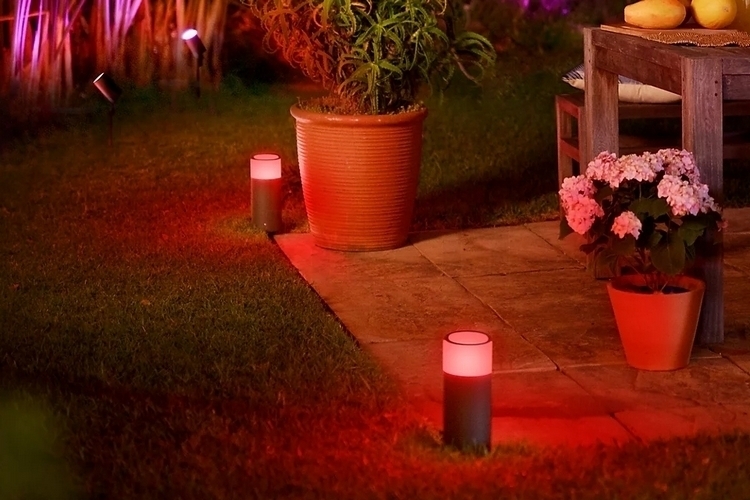 We love the short bollard shape of this pathway light, which keeps itself out of the way (and practically disappears in the dark) while adequately lighting up the ground you're walking on. It's programmable, with 16 million colors on tap, allowing you to really set the mood, whether you use them to light up a walkway, brighten up a garden, or add some illumination to the area around the pool. Seriously, you can get a lot of mileage using this to bring a change of scenery to your backyard by simply changing colors. While we're stoked with its function set, it does have one glaring flaw: the lack of motion detection, requiring you to install a separate sensor if you want it to light up when motion is afoot.
This is wired, by the way, so you need to hook it up to the included power supply, each of which can provide power to five of these path lights at a time. With that said, make sure to install the wires properly to avoid having people trip on them. Additionally, it's only 10 inches tall, so some people might not even notice them and trip, which is why it's important to plan out exactly where you're putting these things.