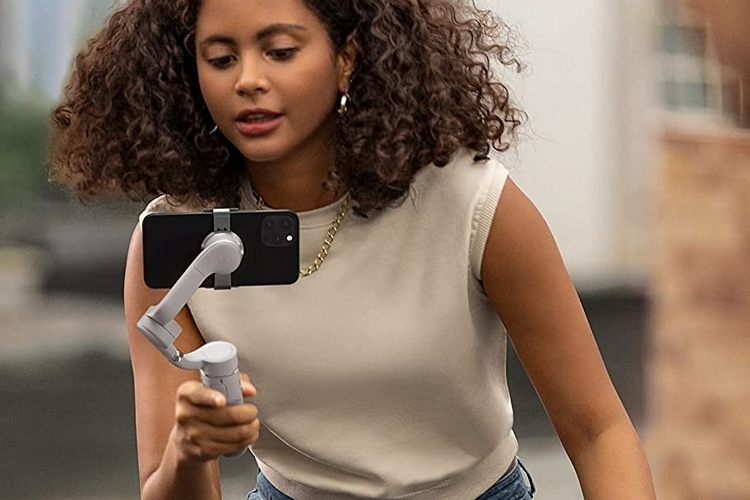 Phone cameras have gotten better than ever, with current top-end models boasting multiple powerful imaging sensors, sophisticated computational algorithms, and even optical image stabilization. You really don't need much more than a smartphone with a good camera to take professional-looking photos and videos.
No matter how good smartphone cameras get, though, it won't change the fact that the phone's flat rectangular form factor isn't the most convenient for handheld cinematography. That's why selfie sticks and monopods became so popular early on. While those accessories remain viable today, handheld gimbals have become a much more preferred solution, as they offer the same one-handed convenience as the monopods of old, all while adding mechanical three-axis stabilization that makes your photos and videos look smoother than ever.
These are the best smartphone gimbals today.
Moza Mini S Essential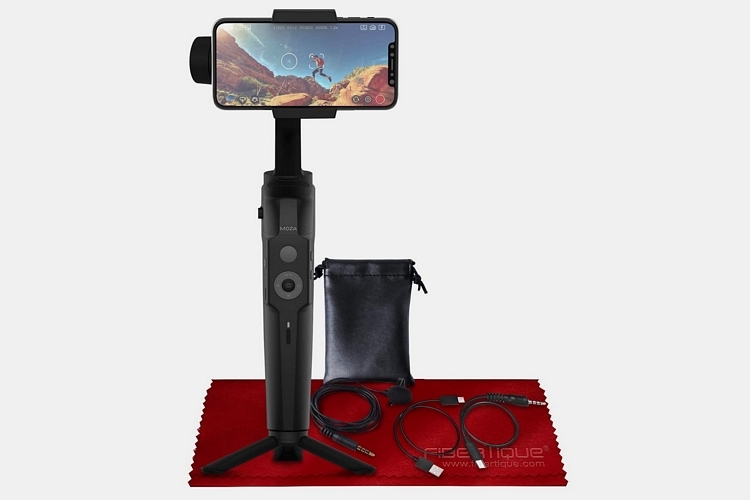 In case you're curious about its size due to the Mini in the name, this gimbal collapses to around 7.7 inches long, so it is pretty compact. Despite the size, it has a decent battery life that allows it a runtime of around eight hours between charges. The three-axis stabilization is just as good as more expensive gimbals in the market, all while supporting bigger phones up to 9.9 ounces in weight. It has a unique off-centered design that's surprisingly very ergonomic with its angled, forward-learning grip being way more comfortable during long shooting sessions. The stabilization is excellent, too, with the motors capably keeping up with the fastest movement, while the limited controls make it as simple to use as DJI's OM gimbals. It also has a companion app, where you get access to numerous shooting modes and autonomous features. Do note, the 270-degree pan and 200-degree tilt on this gimbal is a bit more limited compared to more expensive models, so you'll notice a need to regularly move the camera during subject tracking to make sure you don't lose your subject in the frame.
DJI OM 4 SE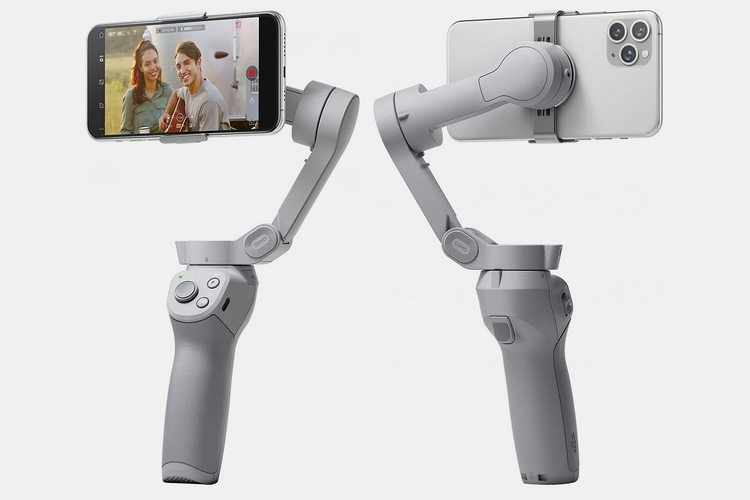 The OM 4 SE is exactly like the OM 4, but without the magnetic ring mount that you'll have to put on the back of your phone, which a lot of people hate. While it's not the latest model of DJI's handheld gimbal, it offers, in our opinion, the best balance of price and features, on top of having a longer 15-hour battery life. You can even plug in your phone into the gimbal if you need some emergency juice, just in case you still need to shoot a few more footage and your phone battery's already running low. Truth be told, we actually prefer the OM 4 SE over the OM 5 for the battery life alone, considering it also supports all the improved features from the app.
The gimbal provides the same three-axis stabilization as the outfit's other gimbals, with the ability to compensate for physical movements at a rate of 120 degrees per second, complete with the ability to recognize when you're shooting at low angles, making it really versatile. It has controls right on the handle, as well as on the app, with various settings (e.g. panning speed, zoom speed) all easily adjusted via the companion app. Naturally, it has access to DJI's numerous autonomous shooting modes, including its much-improved subject tracking, allowing you to capture some professional-looking footage with a minimal amount of work.
DJI OM 5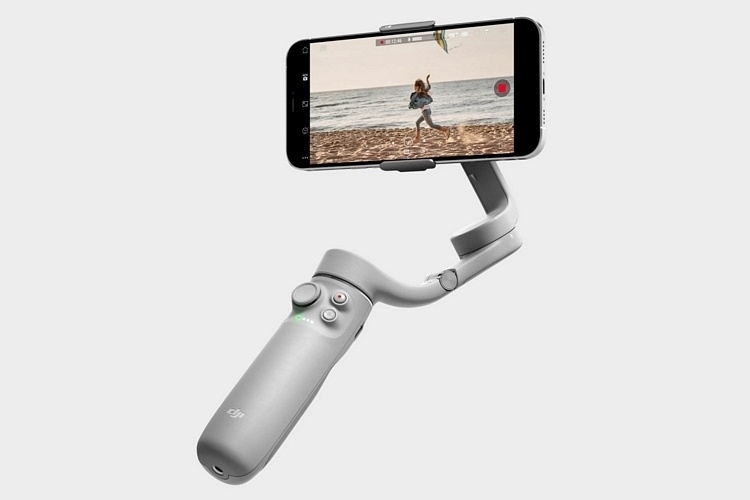 DJI's latest gimbal is lighter and more compact than its predecessor, all while coming with a unique telescoping handle (it extends by 8.4 inches), allowing it to be longer when needed. The magnetic clamp has also been redesigned to accommodate larger and heavier phones, making it compatible with a wider range of devices (even with a case on). Both the app and physical controls are very straightforward. While it will still take some time to learn for a total novice, those who have used smartphone gimbals before will likely be up and running with it in no time.
DJI made major changes to their app by the time this model came out. It has the usual roster of shooting modes, such as timelapse, hyperlapse, panorama, story mode (a quick way to create social media videos), and dynamic zoom, as well as a new mode called Shot Guide that helps you craft more professional-looking shots with step-by-step instructions, using AI to dynamically recommend specific scenes based on your location. It's a strangely effective tool. Our favorite here is the new subject tracking, which can now track subjects at much further distances than before. It's still not perfect and will occasionally lose subjects when they're too far or too fast, but it has really improved in a significant way.
While the compact size is one of the big selling points for this model, it's also responsible for its biggest downside: the battery. Because they can't fit a large battery on a gimbal this compact, battery life is only rated at 6.5 hours between charges, which is less than half what the previous model did. By the way, this gimbal works best when used with an iPhone, as Android phones cap out at 30 fps while it allows iPhones to shoot at up to 60 fps.
Zhiyun Smooth 5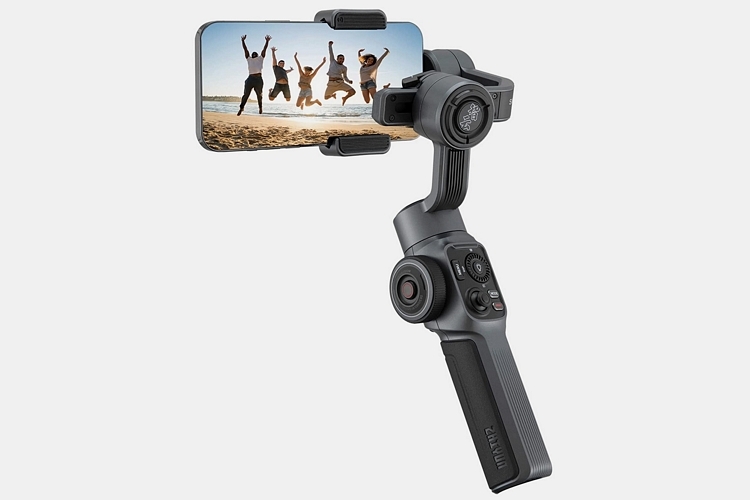 One of our favorite things about DJI's OM line is the simplicity of the physical controls. It makes controlling a gimbal pretty easy. This model from Zhiyun, on the other hand, prioritizes giving the user access to more granular control using its collection of buttons and knobs, allowing you to shoot more complicated footage without having to mess with the app. Suffice to say, there is a higher learning curve for this gimbal, but it's well worth the extra effort you'll put in studying, since this puts a lot more power in your hands. It's also a bit tougher to set up, with the gimbal requiring some tricky balancing each time you mount a phone. Again, it's well worth the trouble if you're willing to put in the time.
This is a solidly-built gimbal, by the way, so it feels sturdy and durable. There's also an included tripod attachment, so you can set it down on a surface if you want to do some hands-free shooting, as well as a fill light, in case you need extra lighting for a scene.
It has the usual autonomous shooting modes, such as panorama, timelapse, hyperlapse, dolly zoom, and follow, as well as some more creative options, such as POV (which locks the movement of the motors with the movement of the gimbal's handle), Vortex (which allows for 360-degree rotation while shooting), and Go (which locks the roll axis while panning and tilting the gimbal faster than usual). The editor on the companion app is also pretty robust, allowing you to do a lot of post-production work directly from your phone. Do note, there are reports of the app not working with some Android phones, so you might want to consider that if you're thinking of getting this one, even though the gimbal will continue to work even without the app (it just won't have the fancy AI modes). In our testing, however, it worked with the couple of newer Android models we had, although we're still not a fan of locking more advanced features behind a subscription paywall (yes, it does that).